Young furniture firm blazing trail in Kenya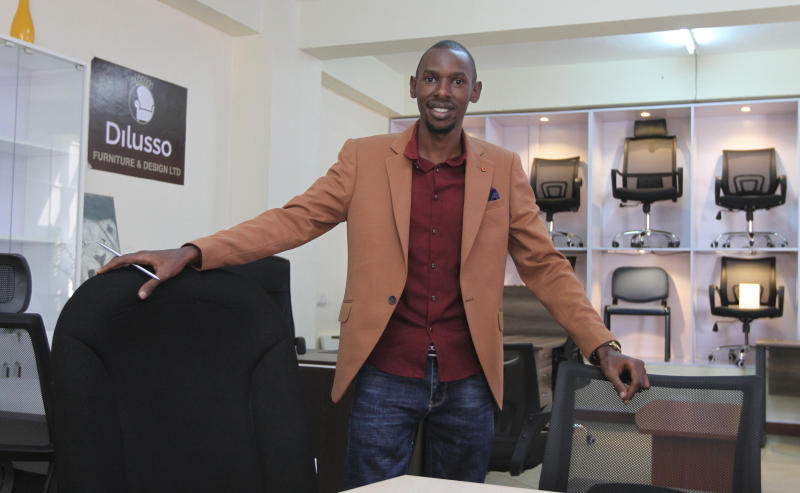 For years, the Kenyan furniture industry was stunted with customers preferring to import high-end furniture for home and office use from exotic destinations such as China, India, Mexico, Italy and even Vietnam.
But the terrain has now changed. Local furniture manufacturers have upped their game. With new, cost-effective innovations being mooted every day, and an energised entrepreneurial culture that has been spurred by the buy Kenya, build Kenya mantra, the furniture industry has been rejuvenated and now Kenyan furniture exports flood neighbouring countries. At the centre of this growth is Dilusso Furniture & Design Ltd, a young Kenyan startup that is quickly establishing its foothold.
Hustle met with Bovian Maina (pictured), the company's founder and director, who shared Dilluso's journey in the industry.
First, why did you settle for the name Dilusso? The inspiration behind it…
Dilusso is an Italian word that means something that is classy. Something that is of high quality and stylish. We wanted to offer classy, quality and affordable office furniture for the Kenyan and export markets.
So how did Dilusso start?
Dilusso was started early last year. Before that, I worked at another more established furniture firm. I gained experience there and decided to venture out on my own. I started by establishing a factory before setting up other operations. I studied international transport logistics and supply chain management so setting up the business structure was not difficult. I am glad the company has picked up quite well.
Tell us more about the local market. How 'kind' has it been to your startup?
The market is good. We have supplied to a number of local and established brands. You know, before, Kenyan companies would import furniture from a number of exotic locations at a high cost given the taxes and freight charges.
The furniture would come in bulk and it would become difficult to fit it in especially a small office space. That has now changed. Local firms prefer to buy from local manufactures because we can customise the furniture in whatever way the client wants so that it can fit in whichever space. It is also cost-effective for the client. We have also been able to export to Uganda and Tanzania.
How has competition been?
Competition has been stiff because as the industry expands, so many players notice an opportunity. But we have been able to handle it. Just like our name suggests, we offer affordable products that are of high quality. For example, we have developed a package for people who want to work from home. For Sh13,000 you get a desk and a chair fixed at your home. Office space we have a Sh20,000 package that includes a desk with drawers and a chair.
Going by the Buy Kenya Build Kenya mantra, there has been a push to create employment even as the government seeks to empower local manufactures. How many jobs have you created?
Dilusso has employed 13 people. We have three sales representatives, one accountant, one receptionist, four factory workers and a dispatch team of four.
Covid-19 has virtually affected every business. How have you readjusted your business model in order to cope?
True. We have not been spared by the pandemic. What we first did was to reduce the size of our showroom. We also noticed that many people now work from home. Like earlier mentioned, we do have packages for those working from home. So we decided to concentrate on that.
What do you find challenging in you line of work?
I am 25 years old. Being a young person, it was difficult to convince would-be clients that I could provide them with good products. My youth was somewhat a handicap. But after we proved our ability by offering quality work, clients' confidence went up.
What is your take on the general furniture industry in Kenya?
The industry is evolving. Perhaps the greatest pillar of this growth is the innovation players here have been able to adopt. This is in terms of customising our furniture to suit clients. Local furniture manufacturers are now taking over the East African market.
What would you tell other entrepreneurs who want to join the furniture business?
It's a tough business but with the right vision, you can make it here. The youth should not be discouraged. Dream and anything is possible.