Rise of Machere from struggling young man into wealthy businessman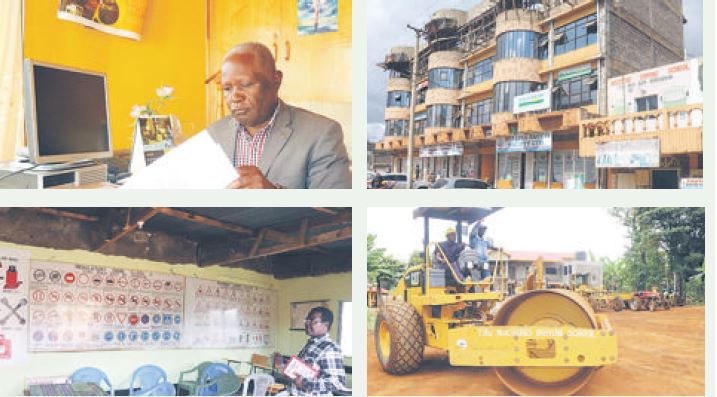 Machere Driving School in Kerugoya is reputed for churning out well-trained drivers and plant operators within the larger Mt Kenya region.
The reputation of the 17-year-old driving school gels neatly with the success story of its founder and director, David Kabui Machere.
Machere Group of Companies has invested in various sectors including D.K Machere Driving School, D.K Machere Building Contractors Ltd, D.K Machere Auto Garage and real estate, among others.
Kabui's ascent from a financially struggling young man into a wealthy businessman belies an inspiring story of resilience, hard and smart work and winning the trust of others.
He started his garage in 1980 with the little money from his savings. Kabui recalls how he would borrow from people to meet operational costs and how he always paid back.
In 1989 when he planned to expand his garage so that he could be buying old vehicles and cutting them to sell spare parts, he approached Barclays Bank and applied for a loan of Sh100,000.
"That was a lot of money then and the manager wondered how I would repay it. He declined to give the loan. A man who trusted me took me back to the manager and promised to guarantee the loan. I qualified for a loan of Sh60,000. I had own Sh30,000. I invested the total Sh90,000 into the garage and within one year I had repaid fully even though I had been allowed three years' repayment period," he recalls jovially.
Kabui was not asked for a guarantor when he applied for his next loan of Sh100,000 and later for Sh200,000.
"That happens when your clients and stakeholders trust you. Today, I can qualify even for a loan of Sh40 million. Loans help a business a lot but the owner must have a plan of servicing the loan otherwise if they squander the money that will be their ticket to poverty," he advises.
Kabui's says clients found him trustworthy to work with for he always did their jobs satisfactorily and that helped his business grew tremendously.
His auto garage still tops in Kerugoya town and in extension Kirinyaga County with loyal clients unwilling to try any other garage.
Kabui started the Machere driving school in the year 2002. The school has grown from a single office/school in Kerugoya town to currently having five branches across Kirinyaga and Embu Counties, objectively training
enterprising drivers from all other counties in Kenya.
Machere Driving School is an Institute of Professional basic and advanced driving courses, registered and approved by the registrar of motor vehciles (NTSA) under the Traffic Act Cap 403 Laws of Kenya.
In the year 2003, the school expanded to Mwea town and in 2015 the Kianyaga office was launched.
As demand for its services grew, the school started a branch in Baricho town in 2009 and in 2017 a branch in Embu town.
The Machere Driving School head office is situated at Machere Plaza in Kerugoya town just 50 metres from the main bus stage.
"The school is objectively established to train men and women above 18 years on motor vehicles and plant machines (earth movers) for better job market," he says.
He launched the earth movers (plant operators) courses in December 2018 and further started it in January 2019 at the college's ground at the northern suburbs of Kerugoya town about 1km from Kirinyaga County Law Courts.
"The course was informed by high levels of unemployment among the youth. With the skills acquired they readily get jobs in the booming road and buildings construction industry. They least they earn is Sh2,000 per day," he says.
The plant operators courses have a fleet of seven machines which include: motor grader, excavator, shovel, compact roller, forklift, farm tractor and back hoe loader.
Machere Driving School operations and administration manager Samuel Murage says the school is well equipped in all areas of training.
"In the motor vehicle categories for all branches, the school has a fleet of saloons, vans, light lorries and buses, which are well serviced and compliant. Our mission remains to increase our driving facilities, expansion and quality training," he says.
The school has vision of being the best motor vehicles drivers and plant operator's trainers with emphasis on roads discipline in Kenya and other neighbouring countries.
Murage says they have qualified and seasoned drivers on the roads as required by the Traffic Act.Machere Auto Garage who form part of the driving practical lessons training facilities.
He adds that all their trainees undergo induction programs on vehicle engine, under carriage and body features prior to the final test at Machere Auto Garage.