Deal maker: I teach professionals modern manners for business success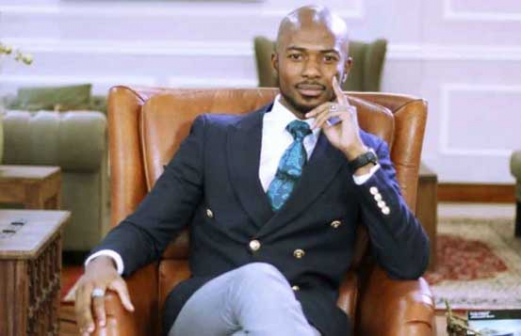 NAIROBI, KENYA: Mwenesi Musalia, 33, is an image and behaviour consultant and communications strategist. He runs two companies – House of Major and the Etiquette and Protocol Institute of East Africa (EPIEA).
He's also a trained lawyer who just happens to believe that how you walk, talk, smell and communicate determines if you'll be successful.
To spread this philosophy, he became a certified trainer in etiquette. He has also built quite a following on YouTube through his channel, Get Yours, where he offers advice on an array of subjects.
Hustle caught up with Mwenesi to learn more on the importance of etiquette and what he believes it takes for your idea to succeed.
You studied law – do you practise it?
I knew from my third year of law studies that I wasn't into the procedural aspect of the practice. I always wanted to do either business or international relations, so I picked the courses in my law degree that were linked closest to these, and I continued with those into my masters. I did a master's degree in commercial law, with a focus on international trade, mergers and acquisitions.
What are House of Major and EPIEA about?
House of Major is a public relations and management consultancy company started in 2014 with a focus on international clients coming into the country to invest and establish themselves.
As we grew, we started catering to local clients. We have invested in a number of businesses, including the Etiquette and Protocol Institute of East Africa, which was set up to offer training and capacity building for our local clients in the fields of soft skills, behaviour, communication, etiquette, personal branding and so on.
I charge a net trainer's fee of Sh15,000 per person per module, though this excludes the cost of the venue and things like refreshments.
You're big on YouTube, Twitter and Facebook – has this helped your bottom line?
I believe in being deliberate in what you put out in the digital media space. At first, I didn't share a lot, but I realised that if used well, social media was a powerful tool to market my business and reach clients.
I'm not talking about posting random videos on YouTube about cats dancing – you need to really think about what you want to achieve when posting videos and messages on the digital media space.
When did you realise it pays to sell your brand on YouTube?
When I got more business enquiries after posting my first YouTube video two months ago than I had got before for the entire year.
When I put my first video out, Patricia Kihoro, Caroline Mutoko and Grace Msalame, well-known personalities, shared it and this helped me reach a wide audience. I also appeared on Caroline Mutoko's YouTube channel, which helped drum up support. It's been good for business.
What do you tell would-be entrepreneurs about positioning themselves to succeed?
Take a paper. Write your name five times with your dominant hand. Now, do the same thing with your less dominant hand. What's the difference?
If you're right-handed, it probably took you five seconds to write your name using your right hand. But when you used your left hand, you probably took twice this time, and the result was not that good.
It's the same thing with business. You need to focus on what you're good at; what comes easily to you, and that way you will thrive. The rest of the other stuff, you should delegate to other people. That's why it is important to not only be aware of your strengths, but your weaknesses as well.
You're also an etiquette coach. What are some of the dos and don'ts of personal etiquette?
First, you have to take care of your appearance because it says a lot about you. Make sure you always look presentable. Second, you have to know how to package yourself to position your business for success.
What do you say to that young entrepreneur who has pitched his/her idea to countless people and been rejected?
People should know that their product is not for everyone and you are not for everyone, and that's okay. If you pitch your idea to 10 people and only two show interest, you've been successful. Now work with those two and find more people like them with whom you can realise your goals.
And what do you say to that young person who wants to start a business today and be a millionaire tomorrow?
If you're going into a business because of money, that is a sure way to fail. A better way to go about it is to focus on your passion and purpose, and then work your way up and put down goals. Young people need to learn to put in the work.
Don't you think that by offering tips through your YouTube channel for free you're missing out on a revenue stream?
I believe in generosity. It always comes back to you when you give.
Closing advice?
Your brand is what people say about you when you leave the room, so be careful what you present. Also, entrepreneurship is not for everyone. Live your truth and keep your eye on the prize – this will help during the downtimes and make the wins that much sweeter. And God above everything.