Five students from same family graduate with masters degrees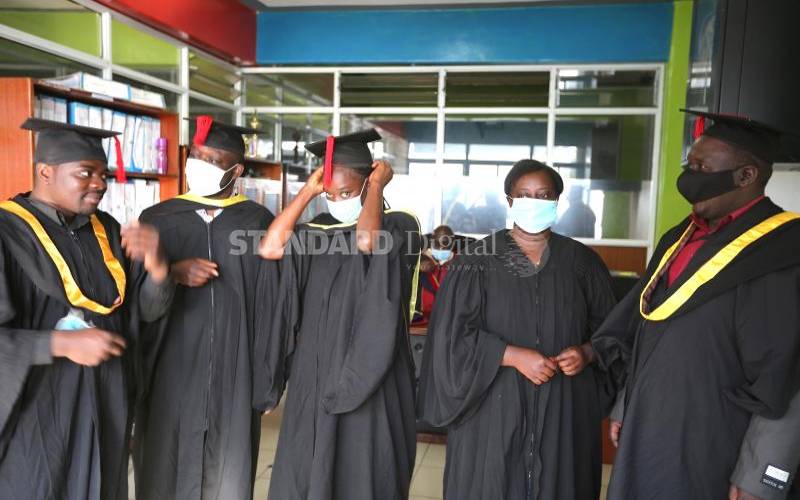 Five siblings were engaged in a hearty chat outside the Jomo Kenyatta University of Agriculture and Technology (JKUAT) campus in Kakamega town yesterday.
They radiated with joy in their black gowns and could not hide their joy as their father, Francis Agoi,68, stared at them in admiration.
Agoi cannot believe that his three sons and two daughters are graduating together with masters degrees.
But to Absalom Adega, 42, Ruth Agoi, 38, Paul Agoi,36, Esther Agoi,33, and Seth Agoi, it all boils down to hard work and focus.
They were among the more than 5,000 graduands who followed the virtual graduation proceedings during Jkuat's 35th graduation ceremony.
Paul graduated with Masters in Business Administration, Adega with Masters in Business Administration in Strategic Management, Esther with Master in Science – Project Management, Seth with Masters in Procurement and Logistics.
Agoi's third born daughter, Rebecca could have joined her siblings were it not for the fact that she had not completed her research work, which stalled after the Covid19 pandemic struck the country. She is pursuing a Master's Degree in Computer Science.
Ruth graduated with Diploma in Community Development.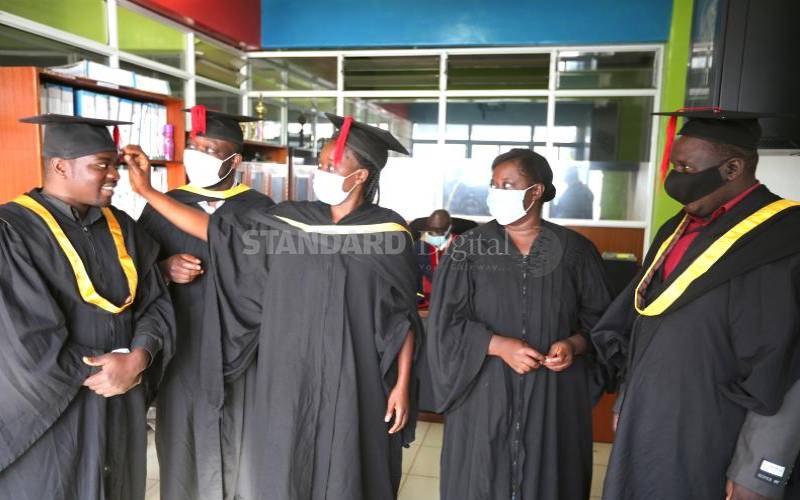 It all started in 2016 when Agoi's second born daughter Faith Loice graduated with a Philosophy Degree (PhD) in Human Resource Management at the same campus where she teaches as a part time lecturer.
After the graduation party, Dr Agoi encouraged her young siblings to consider furthering their studies in order to better their chances of competing in the job market.
"When my daughter graduated with PhD, I was very happy, I pulled her aside and urged her to convince the younger siblings to get out of their comfort zones and go back to school," said the older Agoi.
He said the five agreed to the idea and went ahead to enroll for their Masters Degrees in the same year. Agoi was a primary school teacher of Mathematics.
"I am happy for my children, they are high achievers having graduated today. Despite our humble beginnings, we endeavored to give them a good education and now our efforts are paying off," said Mary Agoi, 68, the mother of the five and a teacher of languages.
In an interview yesterday, Paul, who is the fifth born son in a family of nine, said that it is their eldest sister who convinced them to go back to school and "she had to support me financially at one point to ensure I cleared fees."
Paul is a Mathematics and Biology teacher at Kemeloi Girls in Nandi County and is an alma mater of Moi University where he did his undergraduate studies. He has three sons aged seven, five and seven months.
"My elder sister is more of a mother figure to us, and has always kept a close eye on us. She ensured that we completed our course work and projects on time," said Paul.
Adega recounted how the elder sister visited him and persuaded him to consider going back to school.
"I was hesitant at first but I told myself that I must follow in the footsteps of my sister."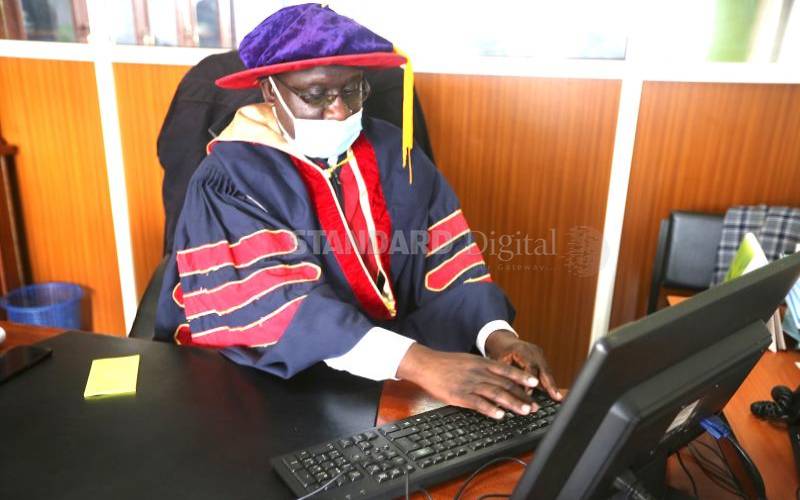 Adega said he had to involve his wife, Ruth, who was pursuing Diploma in Medical Laboratory Technology to also go back to school. The two have two children aged 11 and nine years respectively. Ruth enrolled for a Diploma in Community Development.
"Given that we had spent many years out of class, as a couple we agreed to enroll at JKUAT since it is near our home and we would check on each other to ensure all assignments have been completed." Ruth said.
Seth, who graduated with a Masters in Procurement and Logistics, said the journey has been full of challenges "but I was not about to quit, my elder sister would not let that happen."
Seth is a businessman in Kakamega town. He regretted that their big day had been disrupted by Covid-19.
Esther, a Mathematics and Science teacher at Cheptulu Sunrise Academy graduated with a Masters in Project Management and like her siblings she owes everything to her elder sister.
"They say that when you educate the girl, you have educated the entire community. That is evident and as a family, we can attest to that. It's my elder sister who after earning her PhD pushed us to be who we are today," said Esther, the seventh born in the family.
Dr Loice Agoi was present to celebrate with her siblings. She congratulated them for doing their best and making the family proud.
She challenged them to brace for another round of the race "because they have to march my standards."
Kakamega campus produced 116 masters graduands.