Kenya advance to ICC T20 World Cup global qualifiers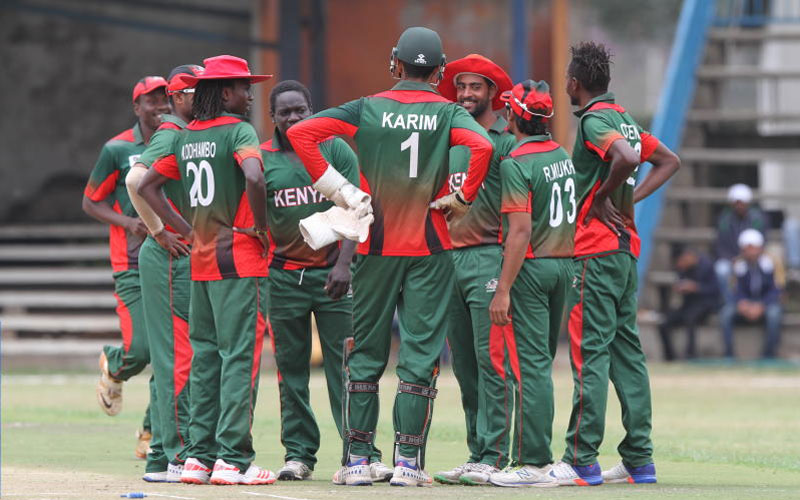 Yesterday, Kenya sealed their ticket to the global qualifier after finishing second behind Namibia as curtains fell on the ICC T20 Africa Final in Kampala, Uganda.
The two sides ended the championship tied on eight points but Namibia snatched the trophy thanks to their superior net run rate.
In UAE, Kenya will be up against thirteen other nation for six slots so as to qualify for the 2020 ICC T20 World Cup to be staged in Australia. They will battle with seasoned sides like Zimbabwe, Scotland, Netherlands, Hong Kong and Oman.
Kenya and Namibia won three matches each while two ties were abandoned due to heavy rains forcing them to share points.
On Thursday, Kenya shared a point with Botswana whereas tournament favourites Namibia split the points with Nigeria.
Kenya and Namibia were set to battle it out in their last encounter which would have decided the tournament winner as the two sides were tied on seven points.
The six-team tournament began with day one matches being moved to reserve day after heavens opened rendering Lugogo and Kyambogo ovals unplayable last Sunday.
Kenya then launched their campaign with an eight wickets win over Nigeria on Monday. Namibia and hosts Uganda also won their respective day one matches.
Kenya enhanced their chances of qualifying for the global show on Tuesday with a by 53 runs win over Ghana before battling to a one-run win over Uganda on reserve day in their abandoned day one match.
The rain slowed Kenya's chase for ticket forcing them to wait longer as they shared a point with winless Botswana. Namibia also suffered a setback after their quest for a fourth win never bowled off against Nigeria who finished third with six points.
Yesterday, all matches were abandoned forcing Uganda who were hoping to end their campaign on a high with a victory against Nigeria to finish fourth with five points while Botswana and Ghana finished fifth and sixth respectively.