Diamond stirs debate as new 'Pulser' magazine hits the streets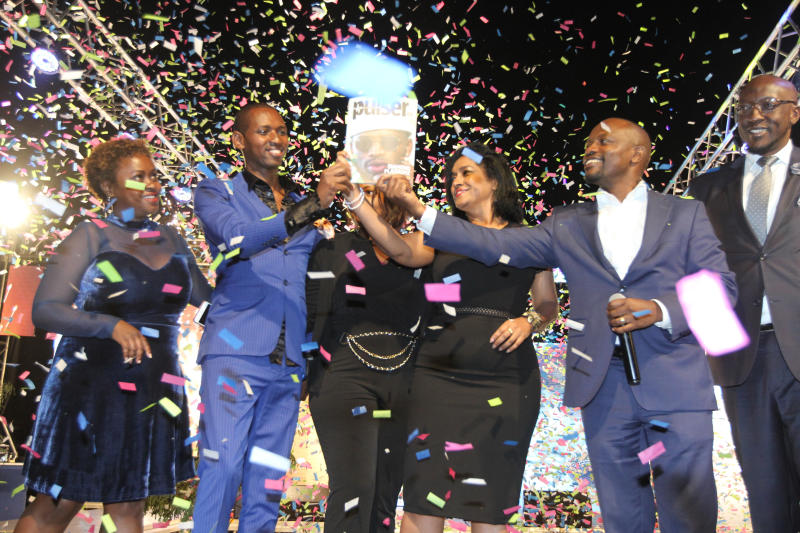 Having dated over six celebrated models and socialites across East Africa, some of whom he has fathered children with in a span of five years, showbiz icon and Wasafi Empire CEO Diamond Platnumz remains one of the most controversial artistes in the region.
His latest catch is Tanasha Donna, the Kenyan radio girl and model whom he has publicly declared that he is set to marry. And not just that, his latest move has been that of making huge investments in Kenya where he has bought property and declared the country his second home.
Indeed, with such calculated moves, Diamond has slowly creeped into the Kenyan showbiz industry with his Wasafi Empire and gained a following from fans, making local artistes and music stable holders ill at ease with him.
The first hint he gave that he is destined to use Nairobi as his investment base was when he launched his new album here, and was at the same time offered land in uptown Nairobi that he has since handed over to his mother.
Intrusion
And the launch of Pulser magazine has created a buzz online after Diamond Platnumz appeared on the cover.
"Why did you put Diamond on the cover of your Pulser launch edition? Why not a Kenyan artiste?" scores asked, creating a fresh buzz online as Pulser, the new monthly free entertainment and lifestyle magazine published by Standard Group Plc, got launched on Thursday night.
The new product that hit the market by storm tells the untold story of Diamond's rise from the alleys of Manzese to become a force in African music. His is a showbiz tale that has puzzled the continent. His meteoric rise to greatness is more of a fairy tale that could make an adaptation for a Hollywood movie.
But there is more to the successful showbiz powerhouse who has the continent and the entire world watching. In fact, it is his Wasafi intrusion into the Kenyan market and his target to control the Kenyan showbiz that has everyone murmuring.
The new Pulser magazine tells an inspirational story of dreams come true for a boy raised by a single mother in a one roomed house in Tandale, a high density slum area in Manzese suburb (after his absentee father Abdul Juma went Awol) and now becoming the face of continental entertainment.
The story sets the mood to great interviews on leading continental celebrities that the new magazine will be highlighting, in-depth interviews that will open you up to the icons' professional and private lives.
Unveiled at a colourful event held at the Junction Mall Courtyard in Nairobi on Thursday, the new full-colour 64-page magazine is a product of its kind in East Africa. It is a premier product that will be available in leading malls, lounges, airports, beauty spots, hotels as well as other urban avenues associated with the 'cool' life.
Its rich content will include celebrity lifestyle, music, travel and adventure, fashion, health and fitness and food, as well as innovations and trends.
It targets the urban working class and it's tag line is "Live it Up" that meant to depict positive ego for an adult who is having good life going on for them.
Performance acts
The brand also comes with a website, www.pulser.co.ke, that is your new go-to entertainment and lifestyle spot, with scoops on your favourite celebrities.
The evening ceremony was spectacular, as Kenyan designers showcased their latest wear on the U-shaped set-up where guests ushered in the new kid on the block over sumptuous delicacies and luxury drinks.
There were performances by leading Kenyan stars Arrow Bwoy, Naiboi and Fena Gitu.
Speaking during the glitz and glamour ceremony, Standard Group Plc Chief Executive Officer Orlando Lyomu said: "Pulser comprises print and digital platforms that appeal to the youth and celebrities in a growing entertainment culture in the region".
Mr Lyomu said Pulse, The Standard's most popular youth pullout, had grown over time to hold the popular Pulse Music Video Awards (PMVA), now in its fourth year, and has an ever-growing community of talented youth producing high quality performance acts.
"Today we see the inception of Pulser digital platform www.pulser.co.ke that captures the latest happenings, most popular videos and hot topics in the world of music and entertainment — that has unique user-generated posts and videos. Using the Issue platform, we also present e-magazine in a subscription format that is easy to take with you anywhere," he said.
Deputy Editorial Director Kipkoech Tanui said Standard Group was back again with what it does best as the icon of innovation and home of talent.
"Tonight, we unveil something new, a sizzling entertainment dish, a captivating serving for our youth segment across East Africa. It has got all the spices of life you need: It caresses the heart, sings to your soul and brings you celebrity news and the lives of our African megastars. It will be available whenever you walk into urban hubs and our digital hubs too," said Mr Tanui.
He said the magazine would focus on a menu that would help the youth grow, develop talent, guide their careers and give them a sense of fulfillment, recognition and conquest of their world.
An excited Pulser Editor Stevens Muendo said: "Pulser is an experience. It is a lifestyle. It is leisure. It brings into reality all the dreams of an urban young adult who is looking for something more off the daily city news and hassles, something that brings fulfillment to life."
Mr Muendo said Pulser's tagline – Live it Up – was weaved to turn all those dreams and realities into experiences.
"Now that your life is off turbulence and you know exactly what you want out of it, it's time we loved all the good things on the dessert table," he said.