Sh240 factory gives hope for cashew nut farmers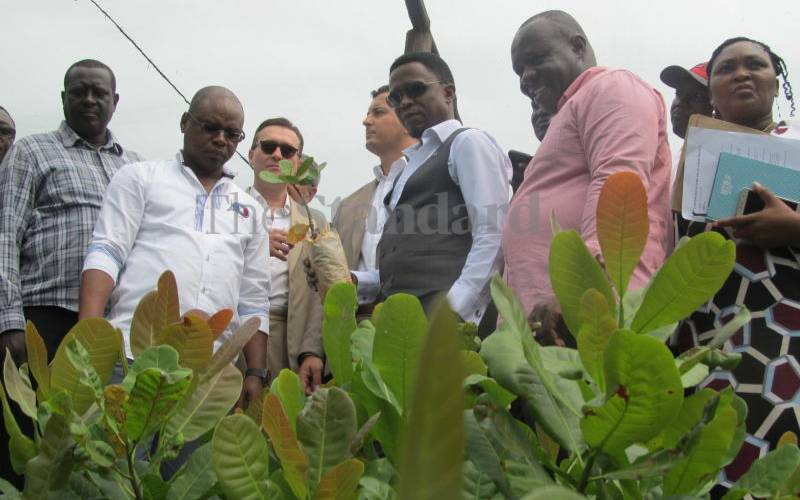 Cashew nut farmers at the Coast should expect better prices in the next harvest season when the new Sh240 million European Union-funded factory starts processing their produce.
The factory will have a capacity to process 5,000 metric tonnes of cashew nuts, a third of the country's current total production.
India and Vietnam process over 70 per cent of nuts from Africa.
The factory will be ready in about two months, according to Frank Omondi, the managing Director of Ten Senses Africa Cashew Ltd, that owns the factory.
He said the equipment they need for the factory in Tezo, Kilifi, will be arriving from Vietnam in the next two weeks.
Omondi said the project will create over 1,000 jobs.
This is a culmination of a four-year journey aimed at reviving the once vibrant sector at the Coast, said Omondi.
Nearly one million cashew nut seedlings have been distributed to 15,000 organic farmers in Kwale, Kilifi and Lamu counties, who are expected to carry out organic production.
"We have sold all of last year's produce. There is a huge market for organically produced cashew nuts, which fetch good prices," Omondi said.
The programme has also rehabilitated over 3,000 trees by removing aged and unproductive branches.
This, according to Omondi, has increased production tenfold and the harvest will provide raw materials to the new factory.
The EU is carrying out the project in partnership with Visegrad Group (V4) countries of Slovakia, Czech, Hungarian and Poland as well as the Norwegian Agency for Development.
EU's programme manager Adolfo Cires said the political and economic union of 27 states in Europe, is working with various private sector players to add value to the cashew nuts and increase export volumes.
"We would like to see close working relationship between the private sector and smallholder farmers to increase job creation and export volumes," Cires said.
AgriFi Challenge Fund, through Self-Help Africa, is working with Sote Hub, in partnership with TSA Cashew Ltd to include youth in the programme.
So far, 150 schools have established farms and received over 72,000 seedlings. A total of 200,000 high-quality grafted seedlings will be distributed to selected primary and secondary schools.
"The school's programme is mutually beneficial, providing the schools with alternative revenue sources, equipping students with practical agriculture skills and supporting the country's greening agenda by the planting of additional trees to help mitigate challenges of climate change adverse effects," said Mr David Ogiga, the programme manager at Ten Senses.
The initiative is also supported by Kilifi, Kwale, and Lamu county governments.
"We have digital scales and farmers will have their cash transferred to their phones on delivery of their produce to our factory or other bunching collection areas that will be created," Omondi said.
Cashew nuts production is expected to increase from the current 12,000 tonnes to 15,000 tonnes in the next harvest season.
The project to revive the industry comes over two decades after the collapse of the sole processor in Kilifi - Kenya Cashewnuts Ltd.
In 1989, the company was got caught up in governance and financial challenges, and in February 1990, most of its employees laid off.
At the same time, powdery mildew disease, which had not been witnessed before, hit the crop, massively affecting yields.
Most farmers cut down their orchards when the factory collapsed in 1998.