Lamu Port to start operations on May 20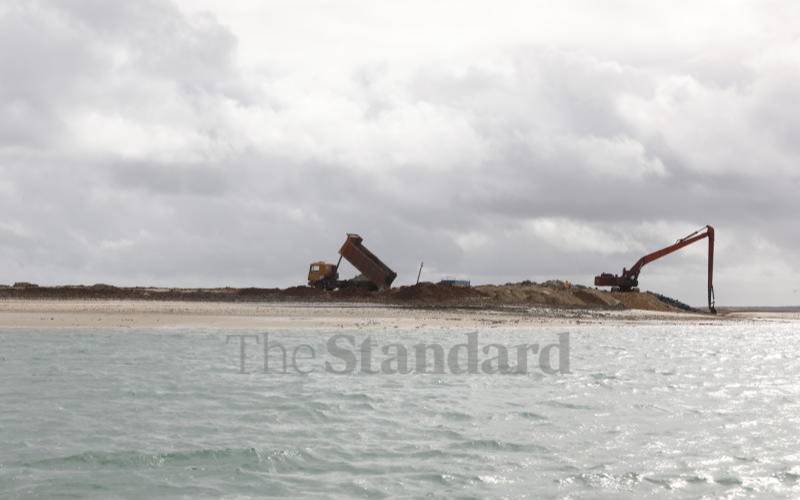 The long-awaited operations at the Lamu Port will start on May 20 when the first ship is expected to dock, National Treasury Cabinet Secretary Ukur Yatani has said.
Yatani said the gigantic ship, owned by the Denmark-based Maersk Logistic Shipping Line, will be fitted with cargo handling gear for loading and offloading.
"We are happy that Maersk is ready to bring the first ship on May 20. All government agencies are alert to this date," he said after visiting the facility on Thursday.
Yesterday, Maersk East Africa Managing Director Carl Lorenz confirmed they were ready to bring the first vessel, expressing commitment to make the port succeed.
Yatani directed all government agencies tasked with operationalisation of the port to beat the May 30 deadline.
State agencies are racing against time to overcome key infrastructural challenges that will play a critical role in the clearance and transshipment of cargo along the Lapsset corridor.
Yatani directed the Kenya Ports Authority (KPA), Kenya Revenue Authority (KRA), Kenya National Highways Authority (Kenha) and Kenya Bureau of Standard (Kebs) to fast-track installation of key infrastructures.
"All ICT systems should be integrated, realigned and functional by May 30. All the state agencies must work round the clock," said the CS.
The first berth is 100 per cent complete and ready to receive vessels, while berths two and three are still under construction.
The port will have a total of 23 modern berths measuring 400 metres wide, which is almost double the size of berths in the Mombasa Port.
KPA is implementing various infrastructural projects to increase efficiency and maintain the dominance of the Port of Mombasa as the maritime hub in the East and Central African region.
All crucial equipment required to start port operations had been transferred to Lamu Port from Mombasa Port.
Some of the hardware equipment included four Kalmar terminal tractors, eight skeletal trailers, one 25-tonne forklift, one five-tonne forklift, two low-bed trailers, two (20) spreaders and two (40) spreaders and one over- height spreader.
The port is part of the Lamu Port South Sudan-Ethiopia Transport (Lapsset) Corridor to link landlocked South Sudan and Ethiopia to the Indian Ocean.
Lapsset has also been adopted as an African Union project designed to link the Eastern Africa Coast and West Africa at Douala Port in the Atlantic Ocean.
Stakeholders welcomed the launch of the port but asked the government to buy modern equipment and put in place a raft of incentives to promote the facility.