Free borehole water in informal settlements to be piped to homes, says NMS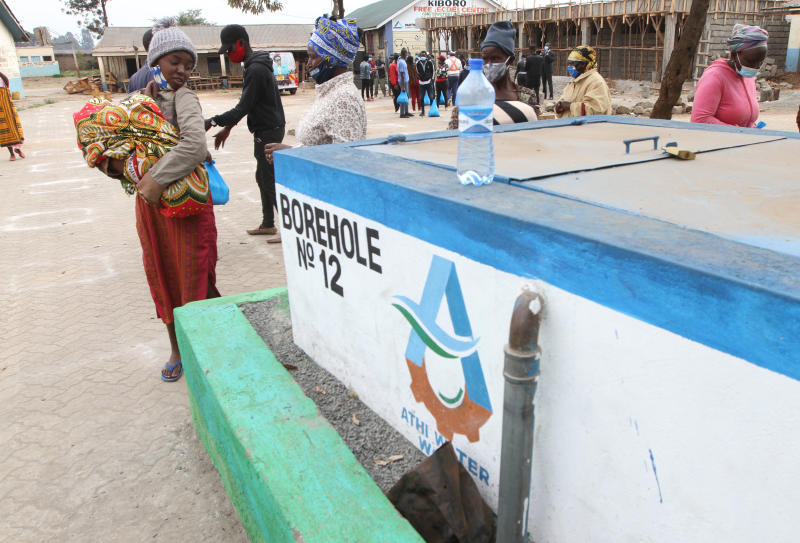 The government is planning to connect homes in informal settlements with piped borehole water.
In order to ensure continued supply of water long after its tenure, the Nairobi Metropolitan Service has announced that the 193 boreholes in the slums will be integrated into the supply system.
NMS Director General Mohammed Badi -while responding to queries over the sustainability of the boreholes- said that Athi Water Works and Nairobi Water and Sewerage Company will take over the management of the boreholes at the end of its tenure in March 2022.
"Nairobi Water and Athi Water works will take over running of the 193 boreholes after NMS exits.They will be expected to provide piped water to residents in informal settlements albeit at subsidised rates," Badi said.
The boreholes have been drilled by NMS in partnership with Athi Water Works at a cost of Sh1.7 billion.
Badi noted that due to the Covid-19 pandemic, residents in slums are currently enjoying free water access from the boreholes which are manned by youth in the community.
However, as part of its long-term plans for the City post-Covid, the two water authorities will ensure that the water is piped to households and keep a tab on illegal connections.
"Hoping that the situation will go back to normal, all they have to do is pipe water and connect metre charges to houses where the slum dwellers will pay less than other estates in Nairobi," Badi added.
Data from Nairobi County indicates that at least two million city residents in the informal settlements are benefiting from the 193 boreholes already dug. They will supply more than 40 million litres of water.