No white smoke from Senate in shareable cash stalemate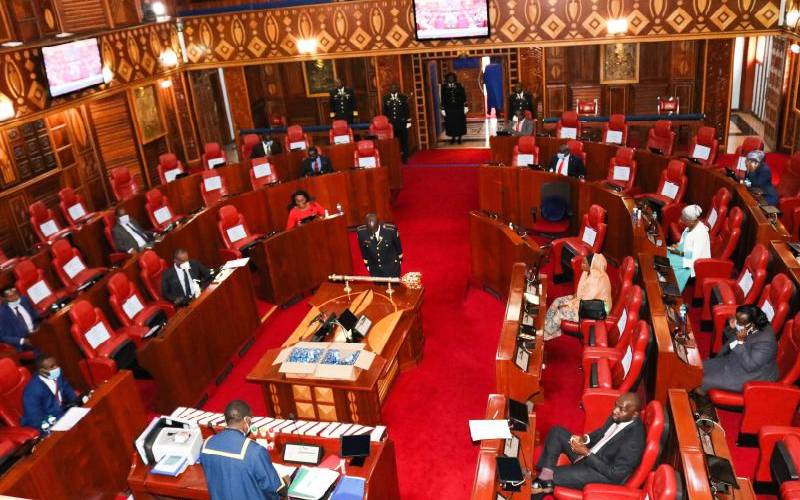 Emotions ran high in the Senate as members sought to unlock the protracted deadlock on the sharing of cash among the 47 counties.
For the eighth time, the senators deliberated on a number of proposals on the divisive Finance committee report on third generation formula that will form the basis of sharing revenue for the next five year.
Speaker Ken Lusaka had a difficult time moderating debate, as he rein in on countless points of order in support or against Nairobi Senator Johnstone Sakaja's proposal, which was further amended by Meru Senator Mithika Linturi.
Arguing the basis of 'one man, one vote, one shilling', those calling themselves Team Kenya rallied colleagues to support Linturi's proposals capping the baseline at down from Sakaja' Sh316.5 billion to Sh270 billion, with the balance subjected to the proposed Commission of Revenue Allocation (CRA).
Some senators allied to President Uhuru Kenyatta and ODM leader Raila Odinga defied their directive to support the CRA fully or recommendations by the committee led by Kirinyaga Senator Charles Kibiru.
Linturi's proposal carried the day, as they voted 25 against 20. However, there were other amendments by senators James Orengo, Kimani Wamatangi, Ledama ole Kina and Petronilla Were.
Tharaka-Nithi Senator Prof Kithure Kindiki in supporting the proposal, said the future of this country is bright with the endorsement of the Sakaja, Linturi deal.
"The reason I support this and not the previous one, is because it was based on wrong principle. We cannot agree to remove the money from one county and take to another," Kindiki explained.
Made reference to the Bible, he said: "Nathan gave David a story, where a man had a hundred sheep. He went to his neighbour, who had one and forcefully took it away and slaughtered it for his guest. We cannot agree to rob another. What we need to do as representative of counties, is to gang as a block and negotiate with the National Government to get more."
Kindiki stressed that the fight should not be between county A and B but the devolved units versus the national government.
"The future of Kenya lies in development of the untapped areas. After the Second World War (WW), the US put emphasis on infrastructure and electricity, coming up with the wild west. As a result, the State of California, is now the 5th largest economy in the world, while the Israeli city of Eilat, southern border, have incentives for free tax and housing."
Majority Leader Samuel Poghisio opposed the amendments, accusing the senators of misusing the opportunity.
"When we adjourned last week, we agreed to build consensus. Today, s unilateral decision is being made and 'bingo', it is a 'Eureka' moment for one side of the House. The language used is unacceptable," he complained.
"No one is stealing from another. We are all looking for resources for our counties. Let's not whip emotions."
Orengo, who is the minority leader and an ally or Raila, opposed the proposals saying members were engaged in a civil war in the senate.
"We are here fighting each other. The fight for resources is reduced to what Sessional Paper number 10 of 1965, which ensures development was along railway line, is being brought back. Senate represent counties, we lost the war when central government took away Sh3 trillion," said Orengo.
The Siaya senator charged: "Shame on us when half of Sh3trillion was taken. What kind of people are we? If we made sure we had Sh400 billion we would be okay. We went to hunt an elephant and we ended up tapping a squirrel, now we have a rabbit."
Orengo recalled that at the beginning, going by CRA cushioning, they should have stuck at Sh346 billion.
"Lamu county has the Lappset project, whose budget is 100 times more than Lamu, Tana River, Isiolo and Marsabit combined. You are asleep. Our fight is with the national government. We are fighting over peanuts. Let's go back to the original motion and subject it to extractive economy, blue economy, wildlife, livestock, as part of the parameters," he appealed.
Senator Cleophas Malala (Kakamega), Boniface Kabaka (Machakos), Kipchumba Murkomen (Elgeyo-Marakwet), Enock Wambua (Kitui), Naomi Waqo (nomiated), Fatuma Dullo (Isiolo) and Ledama ole Kina (Narok) clashed with colleagues Margaret Kamar (Uasin Gishu), Kimani Wamatangi (Kaimbu), Irungu Kang'ata (Murang'a) and Ochilo Ayacho of Migori on the proposals.
Malala said Article 174 on objects of devolution, calls for equitable sharing of national revenue.
"Senate stalemate is on 15 percent. Where is the 85 percent? My wish was we transfer the same spirit of the one man, one shilling, one vote on the 85 percent," Malala argued.
"It is sad that the Kakamega is being dangled by a carrot of Sh400million, yet seven years no flagship project as Sh11billion was allocated Kiambu county and the project taking one year," the Senator said.
Kangata pleaded with the senators to reject the amendment, warning that a vote in support will imply counties lose funds immediately.
"Mandera will lose 245million, Kwale Sh177, Wajir Sh177million, Marsabit Sh156million, Sh Kilifi 153million, Mombasa Sh 135million, Narok Sh 130million, Makueni Sh107million and Muranga Sh 15million," he cautioned.
Kangata urged, "I wish they backed my proposal to defy implementation of the formula until after.
"I wish members backed my proposal to defer the implementation for two years. If this motion passes today counties stand to lose money to today, without the grace period. I better support Sakaja's motion (status quo) than the Linturi," said Kangata.
Linturi while moving the amendment said it was a tradeoff to ensure a win win situation.
"This proposal seeks to mitigate a drastic reduction, to allow the county governments to restructure and adjust budgets and have requisite resources not to disrupt services," Linturi said.
The Meru senator said he was addressing the political reality of the day.
"This notion that some counties will be disadvantaged as they will lose substantively while others gain will be cured. On the debate of one man, one shilling, there will be a higher cost occasioned by the large land mass just like population," said Linturi.
"We are one indivisible Kenya, we must speak as patriotic, Meru county borders, Isiolo and Tharaka/Nithi, if there are no resources, there will be prolification for resources," he said.
Senator Ayacho opposed the proposal saying all counties are seven years.
"We are age mates. We have been made effective by the birth by the 2010 constitution. The historical marginalization cannot be addressed by the third generation shareable formula," said Ayacho.
He stressed, "I just want a simple formula. Introduce marginalization distorting facts. Kuria, first tarmac of road. This is not blamable on any county."
Senator Murkomen said in the spirit of give and take he supports the proposal.
"Questions have been asked why I support the formula. People of Elgeyo/Marakwet sent me to fight for greater allocation to the counties. This notion that people in higher populated areas, raises more revenue is wrong, it's like depriving the funds from Taita Taveta county, from the Tsavo National Park," Said Murkomen.
He warned, "Injustice anywhere is injustice everywhere. If National government loves Elgeyo/Marakwet allocates funds and deny them Sh63billion for Arror/Kimwarer. If the government loves us, let it implement the multi-purpose dam projects," charged Murkomen.