Kenya Power: How the lights dimmed on a monopoly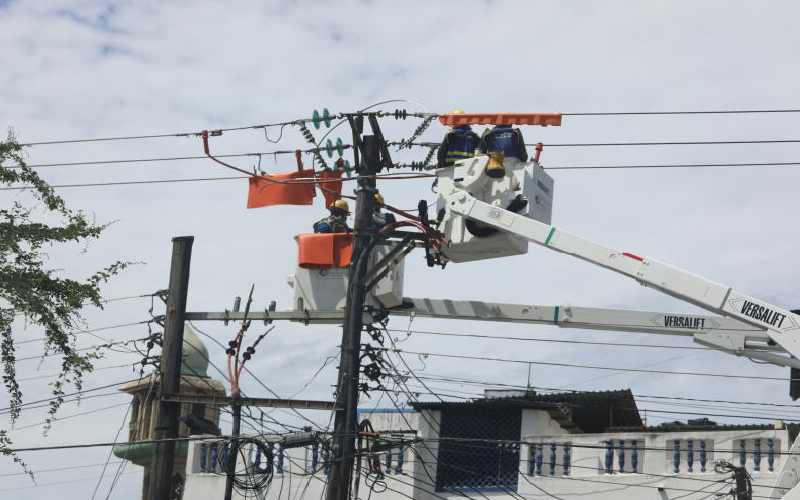 Kenya Power is not just a monopoly. It is a monopoly that passes nearly all its costs of doing business to its customers. It is also a monopoly with a captive customer base of over seven million, ranging from subsidised low-income users to power-hungry industries.
Last year, these consumers, on average, each paid the utility firm Sh52 a day, which translated to Sh133 billion in revenue.
Globally, monopolies are in the money – and so should Kenya Power, if its revenues are the parameter.
One then wonders why it is staring at possible losses, with expectations that its profit for the just-ended financial year to June 2020 will dip below Sh196 million, mirroring what the firm was making in the early 2000s.
Governance issues at both board and management levels, as well as a heavy hand from the government in running the firm, have been cited among its biggest undoing.
Kenya Power is majority-owned by the government at 50.1 per cent.
Another major blot on the power company, and which is closely tied to its ownership structure, is its pricing, where it has little say.
It has on several occasions applied for tariff hikes, but these requests have been denied in a move some stakeholders termed populist.
Constant disagreement
The government's heavy hand in the firm played out early last week when half the power company's directors resigned.
Insiders told The Standard that the resignation of the five directors was due to constant disagreements with their government counterparts, pointing to the possibility that they were forced out.
Energy Cabinet Secretary Charles Keter, however, downplayed the resignation, saying it was part of a reorganisation being undertaken at Kenya Power.
Hindpal Jabbal, who has worked in the power sector for decades as well as served at the founding chair of the Energy Regulatory Commission (now the Energy and Petroleum Regulatory Authority), noted that Kenya Power's woes stem from the baggage it has to carry as a State entity.
These range from government control at the board and management levels, to implementing socio-political projects that offer little returns.
"All appointments of board members, for instance, are made by the CS. The chairperson is appointed by the president – but even then, with advice from the CS," he said.
Jabbal added that the government has a huge presence in the board, including through the Energy Principal Secretary and Treasury Cabinet Secretary.
This is a model of governance replicated across other parastatals.
"It also means that the ministry has the space to influence, coerce or arm-twist various decisions, such as hiring and firing of senior management staff, selection of IPPs (independent power producers), the award of major contracts and setting of electricity tariffs," said Jabbal.
And over the last few years, several Kenya Power chief executives have been hounded out office unceremoniously, some for making bad decisions that have cost the firm billions of shillings.
A number of executives have been arraigned in court to answer to various charges.
One such CEO is Ken Tarus whose departure in mid-2018 left the firm in limbo for more than a year.
Bernard Ngugi was controversially appointed as the substantive CEO in October last year after a short stint by Jared Othieno in an acting capacity.
But Samuel Gichuru, who was at the helm of the firm for 20 years, perhaps best embodies the curse of heading the utility provider. Gichuru is being pursued by Kenyan and Jersey authorities for alleged corruption and money laundering during his time at the firm.
And the board appears to not have been spared the upheavals that have plagued the management.
The resignation of five independent directors – Adil Khawaja, Kairo Thuo, Wilson Kimutai Mugung'ei, Brenda Kokoi and Zipporah Kering –now means the board is largely left with directors who represent government interests in the firm.
Those left on the board are Mahboub Maalim (chairperson), Bernard Ngugi (chief executive), Ukur Yatani (CS Treasury), Joseph Njoroge (PS Energy) and Imelda Bore (company secretary). The utility firm however on Monday named new board members
Beatrice Gathirwa and Isaac Kiva are alternates to CS Treasury and PS Energy.
Previous board appointees have proven that sitting at Kenya Power's decision-making table is no walk in the park.
Politically motivated projects
Former National Speaker Kenneth Marende lost his re-election bid after his tenure ended in 2017. Marende, who had been appointed chairman two years earlier, came a distant fourth in the elections.
"It is time the country completely streamlined and restructured all the institutions within the power sector to make them more autonomous, cohesive and accountable, removing undue political interference," noted Jabbal.
Among the challenges Kenya Power faces is running politically motivated projects, such as subsidising some power consumers.
Currently, households consuming under 100 units a month fall under the subsidised (lifeline) category and pay Sh17 per unit – other domestic consumers pay about Sh23 per unit.
There are more than five million customers in the lifeline category.
"The company could be adding a million customers to its system every year, and they are highly subsidised. Most of Kenya Power's domestic consumers are subsidised. This is seen at two levels – their tariff is lower, and the connection cost, at about Sh15,000, is also lower than what it actually costs to connect a consumer," said Jabbal.
Kenya Power also has to contend with system losses, which currently stand at 23 per cent.
These include transmission and commercial losses. The latter are incurred due to, among other things, illegal connections that could be due to collusion between some staff and customers.
System losses have been increasing, climbing from 16 per cent in 2010 to 23 per cent in 2018, according to the latest available data.
This is in comparison to neighbouring Uganda, which appears to have been able to tame the problem. It has brought down power system losses to 16.4 per cent as of December last year, from a high of 24.3 per cent in 2013.
Profit warning
The board resignations at Kenya Power came on the heels of the firm's downward spiral in earnings.
For the third year in a row, the power distributor has issued a profit warning, projecting that earnings in the year to June 2020 would decline by at least 25 per cent, partly due to the effects of Covid-19. This means it will make a net profit of less than Sh196.5 million, or even a loss.
Kenya Power's profit after tax dipped by 92 per cent for the financial year ending June 30, 2019 to Sh260 million, down from Sh3.3 billion reported in the previous financial year.
The firm is currently posting its worst performance after emerging from losses experienced in the final years under its embattled former boss Gichuru in the early 2000s.
Earnings grew after his departure until Ben Chumo's last year in office (2017), when profit went down. The trend has not been reversed since.
Jerotich Seii, a development consultant who has been running the 'SwitchOffKPLC' campaign, said the reorganisation at the board would absolve some directors from blame should things get worse for the utility firm.
On the other hand, she noted, kicking out directors affiliated to certain top leaders in government would block their businesses from accessing lucrative tenders in the energy sector.
"Underperformance has been ongoing for years. The board plays a part, but cannibalisation of KPLC is with orders and blessings from the very top," she claimed, adding that poor governance and oversight at the firm have been going on for years.
This, Seii said, is seen in the high number of court cases on a variety of issues, including procurement of faulty transformers, meters and cables, which has resulted in massive power losses.
It is also seen in staff colluding with consumers to tamper with meters, or suppliers manipulating the tendering system.
There was also the overbilling scandal that led to an outcry among power consumers, and poorly negotiated power purchase agreements that end heavily skewed in favour of power producers.
Over the years, Seii claimed, Sh150 billion may have been stolen from Kenya Power.
"Wanjiku foots the bill for all of this," she said.
Former CEO Gichuru officially left the firm when he attained retirement age in 2003. He would, however, not enjoy a quiet retirement as he would soon be sought for allegedly siphoning billions of shillings from the firm.
He allegedly used the ill-gotten funds to build an empire whose value is estimated at more than Sh20 billion.
Gichuru is accused of fraudulently earning billions of shillings when recruiting contractors for Kenya Power, with some being required to pay money directly to the accounts of his companies.
Jersey, one of the Channel Islands, has been trying to get him extradited to face money laundering charges.
Tarus and Chumo also faced corruption charges at the firm between 2013 and 2018.
When Gichuru left Kenya Power in 2003, the firm was facing deep financial challenges.
Graft purge
This is despite the monopoly's obvious capacity as evidenced by his successor Jasper Oduor, who posted Sh1.27 billion in profit in the year to June 2004, a year and a half into the job.
It would, over the following years, post a strong performance, which peaked during Chumo's term, reporting Sh7.4 billion profit in the year to June 2015.
This streak of good returns, however, ended, with Tarus and Othieno failing to turn the tide for the embattled firm.
In a mid-2018 anti-corruption purge, the Directorate of Criminal Investigations swept the firm's entire C-suite – save for three general managers – accusing them of corruption.
In total, 19 officials were arrested.
Poor governance is a drag for the firm, leading to high operation costs such that while it made Sh133 billion in revenues last year – up from Sh131 billion the previous year – it would register a 92 per cent drop in profits.
It attributed this to increased power-generating capacity, which in turn, led to a jump in the amount it pays power producers both for the electricity acquired from them or incapacity charges from producers that it is not buying power from.
Growth in consumers, especially the high-spending industrial and commercial users, did not keep up.
"There is a jump in non-fuel costs, which is attributed to the incoming of Lake Turkana Power and Garissa Solar Power," said Kenya Power.
Non-fuel costs, which is money paid to power producers for both power supplied and capacity charges for those that did not supply power, rose 34.6 per cent to Sh70.8 billion in the year to June 2019, up from Sh52 billion in 2018.
The firm also took costly loans during the year, which resulted in high finance costs that ate into its earnings.
"Finance costs increased 46.4 per cent from Sh7 billion the previous year to Sh10.3 billion due to increased usage of short-term borrowings to bridge cash flow shortfalls and unrealised foreign exchange losses," said the firm.
Kenya Power's performance appears wanting when compared with power producers from whom it buys electricity.
The listed firms that have to make disclosures on their earnings appear to be posting growth.
KenGen is among the listed power producers that sell electricity to Kenya Power, and its performance could be an indicator of the performance of the other producers.
The firm's net profit in the year to June 2019 was Sh7.8 billion compared to its performance in 2018. Though flat, this profit level is miles away from the 90 per cent drop witnessed by Kenya Power.
While KenGen does other businesses, nearly all its revenues come from selling power to Kenya Power.
The acquisition of Iberafrica, a thermal power producer, by Danish firm AP Moller Capital in a deal that went through in April could also be an indicator of how profitable the sector is in the country.