Pipeline firm fails fresh bid to block Sh17b tax demand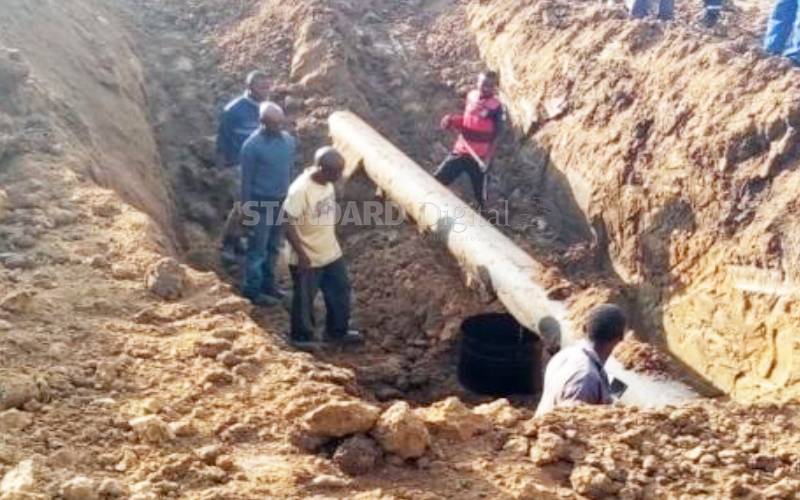 The main contractor of Kenya's controversial new Sh48 billion pipeline has suffered another setback in its bid to block a Sh17 billion tax bill.
While dismissing Zakhem Construction Ltd's application to halt the Tax Tribunal's verdict to recover the money from the firm's accounts at Ecobank and Stanbic Bank, High Court Judge Margaret Muigai ruled that there was a possibility the cash could be transferred before the case over the disputed tax is determined.
The judge observed that the court had in a Sh5.2 billion case filed by Ecobank ordered firm not to dispose of its assets or transfer its monies.
In the case, Ecobank had accused Kenya Pipeline Company (KPC) of helping Zakhem to evade paying a Sh5.2 billion loan in a series of questionable dealings surrounding the new 20-inch Mombasa-Nairobi oil pipeline.
High Court Judge Mary Kasango would later issue an order freezing Zakhem's bank accounts and assets in the country. However, in the latest case over the disputed tax, Justice Muigai said the orders still stand. According to Justice Muigai, Zakhem's relations with Zakhem Nigeria, Zakhem Cyprus, Zakhem Group and Zakhem Kenya and its operations have not yet been settled by the court.
"The appellant (Zakhem) provided a certificate of compliance to establish its residence in the country. However, its residence and conduct of business are not confirmed. The issue of the appellant's status and operations in the country was considered by Lady Justice Kasango," said Justice Muigai.
The firm was embroiled in a legal tussle with Ecobank over an alleged diversion of payment by KPC to Stanbic Bank. According to the lender, Zakhem had no known assets in Kenya.
Ecobank claimed that it had offered a credit letter worth Sh23 billion to Zakhem Nigeria. This amount, according to the bank, was meant to finance contracts by the Nigerian firm. It claimed that the money was instead used to construct the Kenyan pipeline.
Zakhem Kenya, however, denied taking any loan from the bank. According to the firm, Zakhem Nigeria was a different entity and that the pipeline's contract was awarded to Zakhem Cyprus and not the Kenyan unit.
It also claimed there was no consortium formed. KPC also opposed Ecobank's claim, saying that it had awarded the contract to Zakhem Cyprus and that Zakhem Group had assigned the money paid to CFC Stanbic.
It further claimed that Zakhem Cyprus wrote to it directing that it should channel all the proceeds through Ecobank, but it declined due to an earlier pact with Stanbic.
Kenya Revenue Authority (KRA) in the tax demand case had said the assessed unpaid tax involved Sh4 billion inclusive of penalties and interest, withholding tax of Sh500 million, Pay As You Earn (PAYE) of Sh500 million and corporate tax of Sh3 billion as of last year.
Zakhem objected KRA's demand on October 17, 2018. Zakhem claimed that KRA demanded Sh3 billion inclusive of penalties and interests in another assessment done on December 11, last year.