ICT Ministry head Joe Mucheru unveils platform meant to link youths with jobs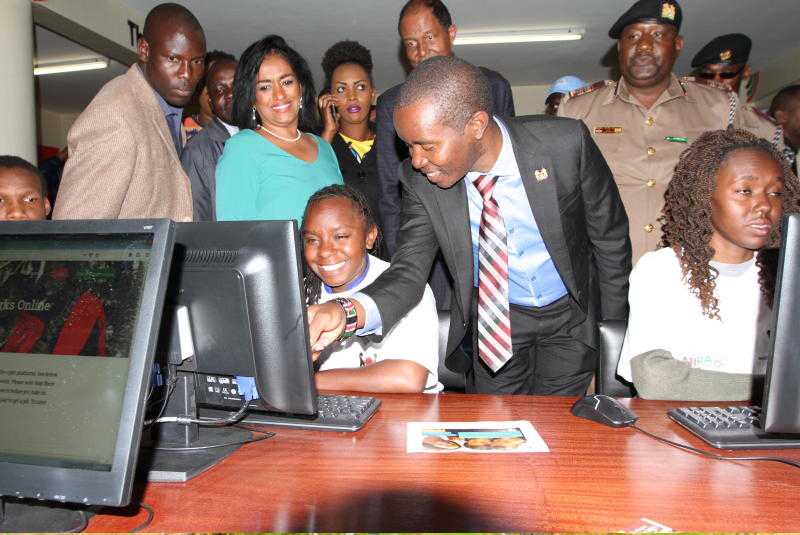 Millions of unemployed youths now have an opportunity to get well-paying online jobs through a new State-run platform.
Through the Ajira Digital programme, a brainchild of the ICT Ministry, the Government hopes to connect one million youths to job opportunities.
First introduced in 2016, Ajira was aimed at creating one million jobs for the youth by the end of last year but the platform's official launch was delayed to this year.
Despite much publicity and strategic partnerships sought with the private sector, registration of prospective job-seekers on the platform and its uptake among employers remains low.
But speaking at the weekend at the unveiling of the Ajira Digital Hub at California Estate in Nairobi's Kamkunji Constituency, ICT Cabinet Secretary Joe Mucheru said the initiative would accelerate the Government's job creation agenda.
"This is a national government project where we hope many more trained youths will use the platform to make income and reduce unemployment in the country," said Mucheru.
He said the ministry is currently training more than 600 youths who will be deployed to the various constituencies once more Ajira Digital Hubs are set up to help the youths tap into online job opportunities.
The CS at the same time challenged the Women Representatives and members of the National Assembly to help the ministry establish the digital hubs in their constituencies.
"The world is now going online. The world's leading companies - Google, Facebook, Amazon, Microsoft - are technology-based. These are companies making billions through the Internet. Online work is the future," said Mr Mucheru.
He added that there are about 50,000 job opportunities in the online platform and encouraged unemployed graduates to apply.
Through the programme,s graduates are trained in soft skills such as how to respond to clients, how to reply emails, professional etiquette among others. Kamkunji MP Yusuf Hassan said the initiative would help unemployed youths in the constituency to use their ICT skills to create job opportunities and shun crime.
"A large number of youths can now have a place to work and earn a living. This resource centre will not only help those working here but the community around the facility will have free internet," said Hassan.
Freelancers' hub
Nairobi Senator Johnson Sakaja challenged the Labour Ministry to implement the National Employment Authority that is tasked with advertising employment opportunities.
"There is a law establishing the Employment Authority in Kenya, but it has not been implemented to date despite its enactment," said Sakaja.
Kenya is now set to be a hub of freelancers by 2022 through the development of a strategy to increase the uptake of digital work model of employment by both the private sector and government.