Boon for farmers as brewer to source raw material locally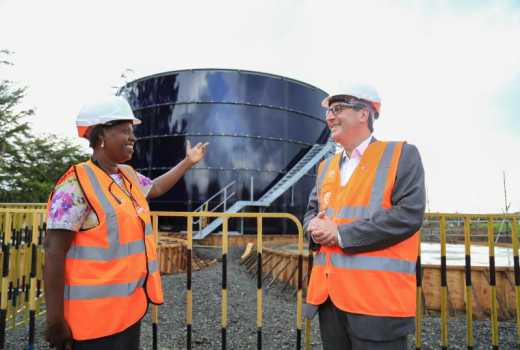 Kenya Breweries Limited has announced plans to source raw material for their Sh15 billion Kisumu keg plant locally in an economic empowerment drive.
The 'west for west' backward integration programme seeks to have Kisumu and its immediate neighbours produce majority of the sorghum needed to run the 1 million hectolitre plant that is nearing completion. Most of the direct jobs will also come from the region.
KBL Managing Director Jane Karuku said already there was an aggressive campaign run by EABL's subsidiary East African Maltings Limited to recruit local farmers. Already, a block of 30,000 acres has been secured in Nyando for sorghum farming.
Ms Karuku indicated that KBL has provided farmers with 80 tonnes of seeds and advisory support as part of their commitment to source 100 per cent of raw materials from within the region by 2020.
"We are also working with Alliance for a Green Revolution in Africa (AGRA) to teach the farmers on how to grow the white sorghum and Kenya Agriculture and Livestock Research Organisation to give us high yielding varieties adaptable to various regions," she said.
She added that Kisumu Governor Anyang' Nyong'o was helping the firm recruit farmers to supply the plant with sorghum. The brewery will require an annual incremental of 10,000 tonnes of sorghum to feed its 1 million hectoliters capacity over a period of five years. The investment is expected to stir up the economy of the region.
"We are happy to be back in Kisumu after a long time and we optimistic this investment presents a good opportunity for us to transform the lives of people in this county and in the region," she said. Sorghum farming alone is expected to give farmers an incremental revenue of Sh500,000.
Ms Karuku announced July 17 as the tentative date when the first barrel of Senator Keg the will roll out of the brewery. She added that production of the Senator Keg beer could potentially help recruit consumers from the illicit sector.
They will also recruit mostly from surrounding counties. "We remains conscious to maintain a 60 -70 per cent local workforce at the site. Right now we are at 80 per cent at the construction site. Our contractors are currently using locally sourced materials and workers who comprise over 85 per cent in conducting the ongoing mechanical and civil works at the plant," she said.
She however added that alcohol production is a specialised skill which takes a number of years to master "and these roles will be taken up by those qualified to do so. Mostly from our other plants offices in the region."
Locals, however stand the opportunity to benefit from heavy investments in training. The KBL boss said the brewery's potential to provide 15,000 farmers with sorghum market will boost the region's agriculture, while thousands of direct and indirect jobs on offer will spur the economy.
Easily the region's single largest corporate investment in decades, the brewery is expected to open a significant socio-economic lifeline for the Nyanza region and make a meaningful contribution in jump-starting the economy of the region.
British High Commissioner Nic Hailey who toured the plant last Tuesday lauded the investment noting it epitomises rising business confidence in Kenya. "I was meeting earlier today with the Governor, the County Assembly and many others in Kisumu and I think it was clear that the number one thing that people want in this region is for investors to come in and create jobs for young people," Mr Hailey said.
"This is an investment that will create tens of thousands more jobs in the country and particularly in this region. It's fantastic news for Kenya and British investments in Kenya," he added.
The new facility is coming up where the old one was situated before it closed down in 2002. It is planned to produce 1 million hectolitres of Senator, EABL's low-end beer brand.