Taita Taveta farmers earn Sh52 million from milk sales to dairy firm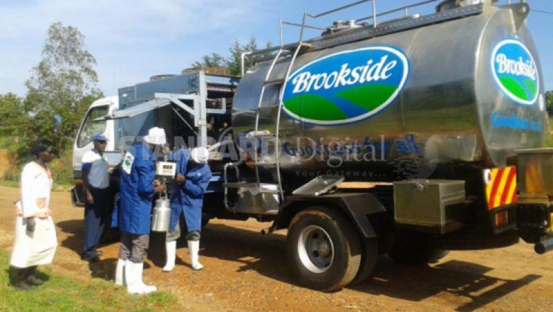 Dairy farmers at the Coast are looking at better prospects after processor Brookside announced that earnings from raw milk sales in the region increased by 10 per cent last year.
Taita Taveta County, one of Brookside's key raw milk collection sheds, sold raw milk worth Sh52 million to the processor last year, signaling improving fortunes for the more than 10,000 smallholders in the Coast region.
Brookside's director of milk procurement, John Gethi attributed the increase in earnings to a move by more farmers to adopt dairy as an enterprise for generating family income.
Speaking at the processor's Wumingu Cooling Plant in Wundanyi yesterday, Gethi said a number of farmers in the Coast region have adopted dairy due to assured income from milk sales to formal market players.
He said farmers must adopt smart farming solutions and keep breeds that are cost effective and possess the required traits for milk production, such as efficient feed conversion ratios. Gethi said the processor has engaged dairy groups in 28 counties on ways of improving dairy herds for maximum milk production.
"This involves working with farmer groups to invest in quality animal feed. Our farmers must work smart and keep breeds that are cost effective. For the animals to produce optimally, they must have efficient feed conversion ratios that ensure maximum volumes of milk," Gethi said.
Statistics by Kenya Dairy Board indicate that over 1 million smallholders are engaged in dairy production in the country, with 500,000 direct jobs in processing, distribution and marketing of milk.
Apart from Taita Taveta County, Brookside also partners with dairy farmers in Kilifi where it has set up cooling stations where farmers deliver their raw milk. The processor has 160,000 contracted dairy farmers countrywide.
"The formal milk market, which is mainly operated by processors, accords farmers more stability in raw milk price and offers a guaranteed market for raw milk. Farmers also benefit from value addition services from us which include training on better herd management," Gethi said.
He added that Brookside would work closely with the county government of Taita Taveta to develop dairy farming through empowerment of smallholders in the area.
While the current rains pounding the country have seen milk production rise marginally, processors are still faced with the challenge of ensuring consistency in production especially during periods of depressed rainfall.
Gethi said Brookside was addressing the challenge of seasonality in production by offering free training to dairy farmers on animal feed preparation and preservation.