First cruise ship docks at the Port of Mombasa with 1,049 tourists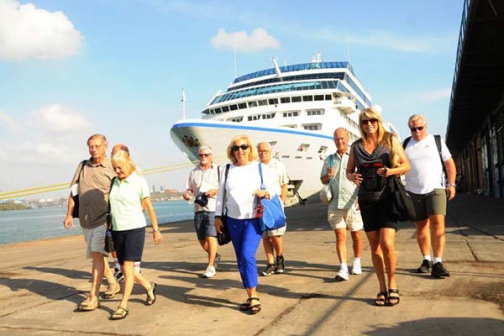 The first cruise ship to dock at the Port of Mombasa this year brought in 1049 tourists on Thursday. There were a total of 654 passengers and 395 crew onboard the vessel.
Kenya Tourism Board (KTB) officials handed over gifts and information booklets on destination Kenya to disembarking passengers. MS Nautica, a regular caller at the port sailed into the harbour some minutes past 7am from Zanzibar for a day long stay. It was scheduled to leave for Port Victoria in the Seychelles as part of its cruise voyage in the Indian Ocean.
MS Nautica made its second round trip after it sailed into Mombasa last December10, 2016. And despite a new travel warning issued by the US government, 282 American nationals were on the voyage and formed part of the group of tourists who flew to Amboseli for game viewing.
Kenya Ports Authority (KPA) Principal Corporate Communications Officer Haji Masemo who represented KPA Managing Director Catherine Mturi-Wairi said that construction works for the modern cruise terminal has already started.
STRANDED FOR HOURS
"The contractor is already on site at berth number one where partitioning works are underway. We hope to have a modern terminal in place when the next cruise tourism season kicks by September this year," Masemo said.
KPA has pumped in Sh150 million towards the construction of the cruise terminal whose launch was presided over last December by Tourism Cabinet Secretary, Mr Najib Balala. Trade Mark East Africa is also contributing Sh100 million towards the project.
However, cruise passengers arriving at the Port of Mombasa have had to shelve plans to visit the idyllic Tsavo National Parks due to persistent traffic snarl ups occasioned by ongoing road repair works.
"Last December this particular vessel was delayed for several hours as it had to wait the arrival of tourists who had gone to Tsavo and got stranded on their way back as a result of ongoing road works on the stretch between Mackinon Road and Bachuma," a tour operator involved in cruise itineraries told Weekend Business.
Belgian couple Beerten Koenraad and wife Liliane who stepped onto Kenyan soil for the second time after a 14 year absence said that they were excited to be back and looked forward for a great visit. They were looking forward to enjoying wildlife scenery. "We joined this cruise in Cape Town, South Africa and will be on the ship for 32 days as we head to Singapore," the couple said.
American national, Ms Xomara Balladara from Sacremento, California, USA said that she was extremely happy to be in Kenya although for only a few hours. "I am here with my husband and will use the few hours to sample the rare attractions you have here," she said.
And Dubai-based airline Emirates has announced that it will increase its daily flights from two a day to three into Nairobi's Jomo Kenyatta International Airport (JKIA) effective June, 2017.