Employers' lobby, Consumer Federation of Kenya clash over interest rate cap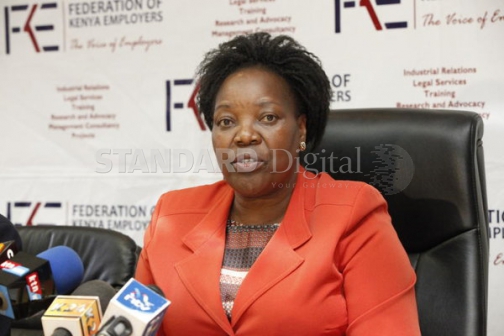 An employers' federation has petitioned President Uhuru Kenyatta not to sign the Banking Amendment Bill 2015. Instead, the Federation of Kenya Employers (FKE) wants the Bill returned to Parliament to give room for more consultations.
Already, a meeting with the business community has been scheduled for next week to come up with their input in anticipation that President Kenyatta would not be signing the Bill into law.
However, Consumer Federation of Kenya (Cofek) has criticised the stand by FKE terming it insensitive. "It is regrettable that FKE could turn a blind eye on the suffering of consumers and employees by purporting to justify high interest rate regime," said Cofek Chief Executive Officer Stephen Mutoro.
But according to FKE, (whose membership include bankers), there are other ways of reducing interest rates that would not be detrimental to the country's booming financial sector. The federation wants the Government to focus on reducing domestic borrowing, and securing firm commitment with the banks to lower rates.
"There should also be tailor made financial products for Small and Medium Enterprises and most importantly allow Central Bank of Kenya to continue with the structural reforms in the banking sector," said FKE Executive Director Jacqueline Mugo.
Immortal profits
Mugo noted that the federation does not overlook the fact that cost of credit in the country is high (which can even be lowered with financial inclusivity), but both sides of the divide (those for and those against) have valid points which should be considered.
"We are of the opinion that a negotiated process on bringing down the cost will yield better results," said Mugo. She added: "It is important to note that there are other factors that may affect this process including the macro economic environment and heavy government borrowing."
Ideally, if the Banking Amendment Bill 2015 becomes law then most banks may shy away from lending to individual average borrowers (and instead lend to subsidiary financial institutions) to maintain their profit margins.
The Bill has proposed an interest ceiling cap of not more than four percent of what CBK proposes (currently at 10 per cent) which means the current average interest rate of 18 per cent will go down to almost 14 per cent. Also, banks will be forced to pay a minimum of 70 per cent of the CBK rates on deposits held.
"Indeed the President has little or no reason not to sign the Bill. More so, on the understanding that most banks have been declaring immortal profits against low investments which justifies that bank usually ignore CBK's provisions on interest rates," said Mutoro.
Mutoro further called on President Kenyatta to ignore the calls by the FKE as they have no competence and direct interest on matter of high interest rates.
"Ideally we know the president does not have to necessarily refuse to sign the Bill. He may qualify some components of the Bill and send it back for further discussion. We are actually hoping that this happens so that we get all stakeholders' input," said FKE Director Patrick Obath. The Bill is sponsored by Kiambu Town MP Jude Njomo.