Investor apathy worries Industrialisation CS Adan Mohammed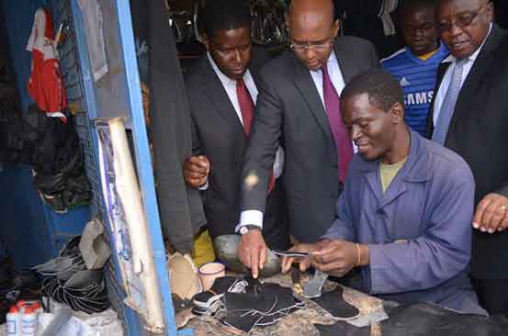 The new Ngozi Kenya Leather Park is set for a slow start, with investors citing hurdles in putting up projects.
At a forum on Wednesday where Industrialisation and Enterprise Development Cabinet Secretary Adan Mohammed met potential investors, the CS revealed only 10 investors had sent applications to the Government showing interest in the park.
Investors attending the forum expressed concerns about putting their money in the park, with most citing the high cost of production involved and competition from foreign markets as the factors holding them back.
cost of hides
One of the investors, Leatherlife EPZ Ltd Chief executive Officer Mumtaz Mughal, said the cost of raw materials in the country was too high and her production costs would skyrocket if she put up a tannery at the park.
"I have to import logs from Tanzania even when we have trees here," she complained.
However, Mr Mohammed was firm that the role of the Government in setting up the park was to only facilitate and help investors with land and the necessary infrastructure needed to jump-start projects in the park.
He said that the Government through the Export Processing Zone (EPZ) has already granted 500 hectares of land at Mavoko in Machakos where the park is planned to be set, and is in the process of providing the necessary infrastructure.
What is now left is for investors to put up the tanneries and other factories needed to have the park running.
"The land has been subdivided into one-hectare plots and we have received 10 applications from potential investors," Mohamed explained.
Mohammed challenged the investors to take up the land that EPZ was offering and create vibrant leather factories, saying besides Kenya's potential in this sector, the country still lagged behind in production and relied on cheap imports.
"Leather production globally is at $100 billion (Sh10.1 trillion) with Africa contributing $4billion (Sh406.1 billion) of the production, while Kenya only accounted for $140 million (Sh14.1 billion). This is unacceptable given that we export huge chunks of wet-blue leather and don't get value for it," said the CS.
Industrialisation and Enterprise Development Principal Secretary Julius Korir however painted a dull picture on the advances made by the state towards setting up infrastructure at the park: "So far the necessary infrastructure projects needed at the leather park are 15 per cent complete. We will be putting up the rest as investors come in," said Korir.
Kenya to soon start refining crude oil in Mombasa
Yesterday, President Uhuru Kenyatta chaired a special cabinet meeting, which gave the nod to full exploration of crude oil discovered in 2012 by UK-based oil and gas exploration firm, Tullow Oil, in Turkana.