Kenya drawing huge gains from oil slump, CBK boss tells Kigali meet
Kenya has benefitted immensely from the crash in commodity prices, and specifically oil, which has hit most other African nations badly.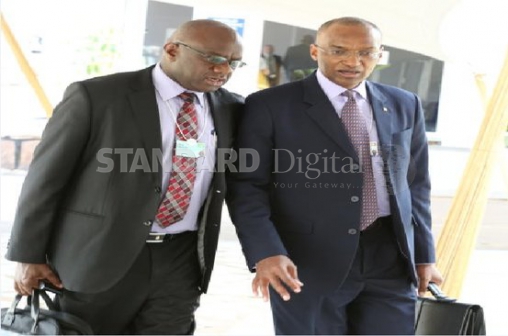 Central Bank of Kenya Governor Patrick Njoroge told a panel discussing the slump in the price of crude oil on the international markets that they had sharply cut the cost of living at home. This was through lower energy and electricity prices, while enabling the country reduce its balance of trade.
"It is obviously devastating for most countries but it has had huge benefits at home," Dr Njoroge said. Pump prices for kerosene, petrol and diesel are at the lowest levels since 2009 in Kenya, granting households and motorists major savings.
Tea, coffee and horticulture are Kenya's biggest exports, all enjoying relative price stability in the last year when crude oil prices fell by more than 60 per cent. Average crude oil prices in 2014 were about $110 per barrel, before a relentless slump that only reversed in February from under $30 a barrel.
Oil is the single biggest import commodity in Kenya, implying that any price reductions on the commodity translate to substantial amounts. These savings provide relief to the exchange rate against the major currencies such as the US dollar – the main currency in international trade.
Dr Njoroge, however, projects that the prices will recover at some point to provide some relief for countries that are heavily dependent on commodities. "We do not expect that the oil prices will remain depressed forever, they will rise and fall again," he added.
Nigeria is among the countries that have taken the biggest hit from the low oil pricing, with the impact cascading to households. Panelists in the session alongside Njoroge included former Nigerian Finance Minister Ngozi Okonjo-Iwaela – who now chairs the Gavi Alliance, a US-based global body seeking to enhance access to immunisation in poor countries.
Closer trade ties among the different countries was proposed as the most practical ways to cushion the various states from the shocks presented by volatility in commodity prices. While it is oil prices that have plummeted the most among African commodities, Zambia is also reeling from a similar fate.
Prices of its main export, copper, have fallen by more than half in the last five years – on account of falling demand from China, the key market. "Africa has a population of more than 1 billion, which would be a huge market, but will only be achieved through increased mobility," Akiwumi Adesai, president of the Africa Development Bank said.
His bank, AfDB, nearly saved Chase Bank from the temporary closure in an uncompleted transaction worth Sh5 billion on the last day of March. Mr Adesai was speaking in a different session of the WEF that was addressing the need for opening up of borders within the continent to promote trade and free movement of people.
Potential markets
His sentiments about continental integration are now the rallying call in the forum that closes today. President Uhuru Kenyatta and his Rwandan counterpart Paul Kagame spoke widely about the need for deeper integration and easier cross-border movement of goods and people.
Mr Kenyatta on Wednesday said there was an urgent need to eliminate unnecessary trade barriers between countries, citing that they stood to draw huge benefits by looking at each other as potential markets for their goods.?
And in another proposal, economies that are heavily reliant on commodities could consider setting up a fund whose role will be cushioning the economy from depressed prices.
Excess revenues earned when the markets are favourable will be deposited into that fund, and only to be withdrawn when the markets crash.?