Nigerian minister Akinwumi Adesina wins African Development Bank presidency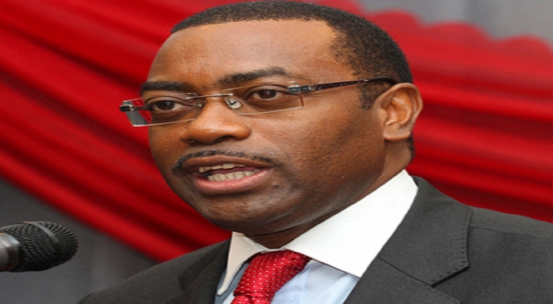 Nigeria's Agriculture Minister Akinwumi Adesina
Dr Akinwumi Adesina and Nigeria Agriculture and Rural Development Minister is the new president of the 50 year old African Development Bank (AfDB).
Adesina 55 garnered 58.10 percent of the total votes while Kordje Bedoumra of Chad came second with 31.62 percent and Christina Duarte from Cape Verde who was the only woman among eight candidates attracted 10.27 percent.
The new president will take over from Dr. Donald Kaberuka who is retiring after serving the bank for the last 10 years.
Shareholders termed the Adesina's election as a new chapter in the 50 years old bank and thus the growth tempo will be maintained.
Key issues at hand awaiting the new president includes mobilizing more funds to finance infrastructure, enhancing regional integration and forging strong working relationship with the private sector.
Kaberuka observed that the new president will have to ensure more resources are mobilized to finance, energy, water, transport corridors and Information and Communications Technology (ICT) projects in addition to assisting efforts to end conflicts in fragile States.
"When I assumed office in 2005, Africa was at a turning point, beginning to reverse years of decline, registering positive real per capita gross domestic product growth in almost two decades," Kaberuka stated.
Future economic growth in most African countries he added will be driven by domestic demand, investments in the natural resources sector, increased investment in infrastructure, and expansion in the agricultural sector.
Adesina who has published 32 articles in international journals and has also been quoted in 42 selected book chapters and major conference papers trounced seven other candidates in the tightly contested poll held in Palais des Congrès hall in Sofitel Hotel in Abidjan, Cote d'Ivoire. The rest of the candidates were Sufian Ahmed (Ethiopia), Jaloul Ayed (Tunisia), Kordjé Bedoumra (Chad),Cristina Duarte (Cabo Verde), Samura M W Kamara (Sierra Leone),Thomas Z Sakala (Zimbabwe), Birama Boubacar Sidibé (Mali).
Adesina is now the eight president of the bank since it was started in 1964. The other past presidents include Mamoun Beheiry (Sudan) November 1967 - August 1970, Abdelwahad Labidi (Tunisia) August 1970 - May 1976, Kwame Donkor Fordwor (Ghana) May 1976 - July 1979, Wila D. Mungomba (Zambia), June 1980 - May 1985, Babacar Ndiaye (Senegal), May 1985 -August 1995, Omar Kabbaj (Morocco) August 1995 - August 2005, Donald Kaberuka 2005-2015.
In the first rounds of voting divisions emerged among the shareholders with USA and other non-regional member countries supporting Christina but United Kingdom and other European Union members voted for Adesina.
Nigeria attracted support from a good number of African countries owing to its shareholding stake in the bank which currently stands at 9.2 percent. The shareholding stake by each country translates to the voting power.
Non-regional member countries control 40 percent of the bank while Africa 54 countries control the rest 60 percent.
USA is second in the bank in terms of shareholding stake with 6.5 percent followed by Japan at 5.4 percent, and Egypt (5.3 percent) respectively. Kenya's stake in the bank stands at 1.4 percent. It is after Zimbabwe candidate Sakala was dropped during the fifth round, that Southern African Development Community (SADC) member counties extended their support to Adesina against Chad and Cape Verde candidates respectively.
In his acceptance speech, Adesina expressed his willingness to rally all the member states with a view to mobilize more resources to finance the various projects outlined in the bank strategic plan 2014-2022.
"The people of Africa have spoken and I have heard and I am ready to keep the fire burning. Be assured of my support. I am well aware of the issues the continent is facing currently –poverty, infrastructure, regional integration, women empowerment, agriculture, private sector among others.
My priority is to graduate the bank to the next level of deeply tackling the setbacks the continent is grappling with mainly infrastructure so that the region can becomes the place of choice in the world map," said Dr. Adesina.
He added, "My predecessor Kaberuka has steered the bank to great heights and enabling the countries to achieve their development goals. I am equally keen to ensure the outlined goals are delivered. However, with the support of the shareholders I am confident the new chapter we have started during this annual general meetings will enable us to go to the next level and ensure people of Africa benefits and enjoy."
Adesina who is highly regarded in Africa and international circles because of his passion to turn around the agriculture sector in Nigeria within a period of two years extended an olive branch to his opponents saying the people of Africa demands unity as they endeavor to confront challenges they are grappling with.