Tatu City turf wars derail multi-billion project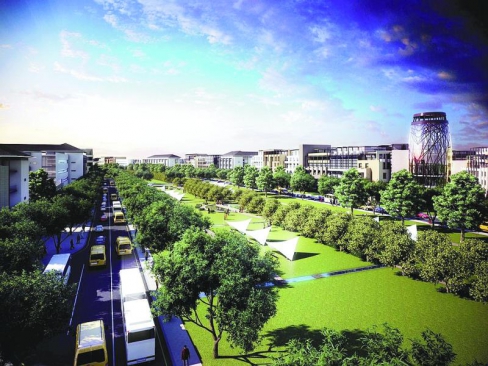 Uncertainty hangs over Tatu City project, following an order to freeze its bank accounts. This has seen key works on the multi-billion project interrupted.
Tatu City Ltd local partners Nahashon Nyagah and Vimal Bhimji Shah, recently moved to court and obtained orders, claiming the project sponsor Stephen Jennings and foreign partners had failed to account for the money raised since the project began.
But in a swift rejoinder, Stephen Jennings claims Nyagah and Shah have not invested any cash to the project.
"I have already secured funding of $100 million (Sh91 billion) into the project so far, money that has been used to purchase the land, meet staff costs and also finance construction of various infrastructure such as water, sewerage, broadband and roads," said Jennings.
He made these remarks yesterday at Sarova Stanley, while introducing the new Tatu City Chairman and business magnate Pius Ngugi, and acting Chief Executive Officer Eng Antony Njoroge. "We still have to meet staff costs and settle the land tax-costs. We shall have to secure funds from elsewhere, now that we cannot access the bank account," said Jennings.
He said the two directors are deliberately trying to derail the project after they fell out in Mauritius over a deal gone bad. "What the two are doing is a complete nuisance but this will still not stop me as the majority shareholder and our local and offshore partners from going on with the project," said Jennings.
Racial undertones
He also denied that he was a Russian, stating that this was an inappropriate description with racial undertones. "What is happening at Tatu City is strange indeed. How can you shoot down and freeze assets or disrupt a business that you have invested in?" posed Pius Ngugi.
Ngugi also wondered who the Kenyan partners in Tatu City were working for, saying the dispute or any disagreements within the firm be resolved through the company's board. "We are aware that international investors are merely using the two directors to fight this project. While they were paid a fee for identifying the land, they are yet to contribute any cash into the project.
In the latest round of legal battles at Tatu City, Nyagah and Shah obtained orders that have far reaching effects on the project.
Both Jennings and Ngugi refused to comment on ongoing matters before the court, expressing confidence that the matter will be determined in their favour.
Tatu City project targets residents who wish to live, work and play in a planned urban development sitting on 2,400 acres. Upon completion, it will accommodate 70,000 residents and 30,000 day visitors according to its planners.