Sector in limbo as EU warns it won't compensate exporters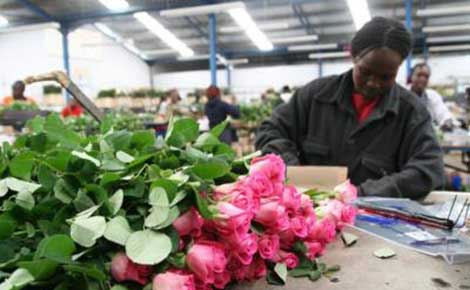 Kenya Flower Council warns that local horticulture exporters will face more than Sh1 billion in losses each month.
Nairobi; Kenya: The Government has moved to arrest panic among exporters to the European Union as they stare at massive losses over the delayed Economic Partnership Agreement (EPAs).
Foreign Affairs Cabinet Secretary Amina Mohamed, told 'Weekend Business' that the government will cushion the exporters against losses. "The Government and the EU have agreed to help cushion Kenyan farmers and other exporters against any losses. There should be no panic since we are working hard to strike a suitable deal for all the stakeholders," she said on the sidelines of Africa Global Business Forum 2014, in Dubai. However, she did not specifically say how the government plans to do this.
The European Union mission in Nairobi has, however, distanced itself from the remark saying the current trade legislation does not provide an avenue for compensation to exporters for any loss they may incur.
Trade Counsellor at the EU mission in Nairobi Christophe De Vroey, yesterday said that no exporter will be compensated during the duration Kenya's produce to EU will be subjected to tax. "We are yet to sign the EPAs with the East African countries. Following the expiry of the deadline set, commodities from Kenya will be taxed until Kenya is included on the list of beneficiaries of market access regulation. EU is not in a position to compensate the farmers and traders the tax they will pay to the EU," said Mr Christophe.
Kenya has been negotiating the new trade arrangement under the East Africa Community (EAC) bloc.
Christophe confirmed that all other African regional economic blocs, such as Ecowas, SADC and Esa signed the agreement early this year.
Ms Mohamed appeared to blame some members of the EAC for stalling negotiations towards a new trade framework, which has seen Kenyan exporters face billions of shillings in new taxes for goods going into the EU.
As a result, Kenyan products, which have been enjoying duty-free export to the European Union now have to pay between four and 24 per cent in taxes, a fact that could see the cost of doing business rise significantly.
"When you are negotiating as a bloc, you have to get consensus with each member State and this is not easy since any deal must be presented with agreement with all the other members," Mohamed. "If Kenya was doing it alone, we could have struck a deal long time ago."
Head of EU delegation in Kenya Lodewijk Briet, said the delay by the EAC to sign the agreement will cost local exporters dearly. "We regret that the exporters will be subjected to new tax and this will hurt the local economy. However, we are optimistic an amicable agreement will be concluded before the end of the current month," said Mr Briet. Once the agreement is signed, it will take four months to include Kenya into the list of beneficiaries of the market access regulation.
Attract More taxes
Kenya Flower Council says local exporters will face more than Sh1 billion in losses each month. Exporters in Kenya are at a more precarious position since the country is now classified as a middle income economy particularly after rebasing key sectors of its economy that have seen the country's GDP increase by 25 per cent.
This is because Uganda, Tanzania, Rwanda and Burundi will continue to enjoy duty free and quota free exports to Europe owing to their Least Developed Country (LDC) status.
Of key concern is Kenya's flower sector, which is expected to export 125,000 tonnes this year netting the country some Sh46 billion in earnings. In 2013, Kenya's horticulture industry netted Sh89 billion, more than twice the value of exported coffee, fish and tobacco combined.
With lapsing of Tuesday's deadline, exports of flowers will now attract a duty of 8.5 per cent, with tuna fish 20.5 per cent, other fish 15.7 per cent, fresh avocado 1.6 per cent, fresh pineapple 2.1 per cent, processed pineapple 22 per cent, processed vegetable 30 per cent and roasted coffee 2.6 per cent. While Kenya, which is set to become the only East African country whose exports EU duties will apply, could opt out of the joint negotiations for a single negotiated agreement would have to obtain approval from the EAC Council of Ministers. —Additional reporting by Frankline Sunday and Nicholas Waitathu.