Price of insulin to fall as Government partners with Danish firm
By JOB WERU
Diabetes patients have a reason to smile after a Danish firm, Novo Nordisk partnered with the Government to provide cheaper diabetes drugs.
Novo Nordisk CEO and President Mr Lars Rebien said the programme will see the cost of insulin reduced from the current Sh1,800 to Sh500.
It is also expected to make the insulin cheaper and accessible, especially to poor patients- who access Diabetic Comprehensive Care Centres-which have been established through assistance from Danish government in Mweiga, Nyeri and Dagoretti in Nairobi.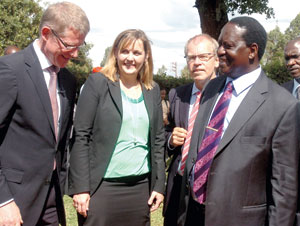 Prime Minister Raila Odinga at Kanyiriri Diabetic Clinic in Kikuyu where he officially opened the centre. Danish firm, Novo Nordisk will provide cheap diabetes drugs. [Photo: MOSES OMUSULA/Standard]
Rebien, who also opened the comprehensive Care centre in Mweiga and Dagoretti observed that diabetes was a chronic disease whose effects had caused a trail of sufferings to many.
Statistics indicate that more than 360 million people worldwide suffer from the disease while according to the Diabetes Society of Kenya, an estimated 1.2 million in Kenya are diabetic.
"Novo Nordisk has decided to deal with the health facilities after it has turned out that the chain of distribution has been charging exorbitantly to patients," he said.
Rebien was accompanied by Danish deputy Head of Mission, Mr Ole Thonke, Dr Waihenya Mwangi, from the Division of Communicable Diseases in the ministry of Public Health and Sanitation and Ms Abigael Gachagua, the Project Manager with Base of the Pyramid-which deals with diabetes.
Reuben Magoko, the national chairman of Kenya Diabetes Association said the major threat of containing diabetes in Kenya was the prohibitive cost of medication.
According to the Diabetes Management and Information Centre, the average annual cost of caring†for a person with Diabetes Type 1 is Sh20,000, while between 60 and 70 per cent of the cost is for purchase of insulin.
In Kenya, insulin is subsidised by the government and sold to patients at a reduced prices, but health facilities usually run out of stock.
This forces patients to purchase insulin from private dealers where prices are exorbitant.
In this programme, 27 faith-based health facilities in Nyeri and Dagoretti will benefit from the pilot project that aims to reach 2,000 new patients by July this year.
"The success of these two pilot projects will form the basis for scaling the project to reach 30,000 new patients throughout Kenya by the end of 2014," Rebien said.