When popular entertainers go for top seat
By Tony Mochama
Youssou N'dour's New Year announcement that he would be taking on the dour octogenarian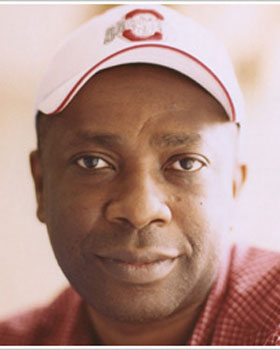 Senegalese world music star Youssou N'dour declared he will vie for his country's presidency. Photo: FAO

incumbent Abdoulaye Wade for the Senegalese presidency in next month's elections sent shock waves not only in the small West African nation, but also worldwide.

For Youssou N'dour is much more known for his music, commanding a fan base of millions internationally, and once described by the New York Times as a man with "an arresting tenor, (that is) a supple weapon deployed with prophetic authority".

But now the gifted musician will have to garner millions of votes nationally to arrest the attempted third tenure of 85-year-old Wade, if he is to command ultimate political authority in Senegal.

Among N'dour's numerous accolades are artistic collaborations with fellow (ineligible) Haitian presidential wannabe Wyclef Jean, Live 8 concerts with Paul Simon & Co, 'Biko' memorials and 'Free Mandela' concerts in the 1980s with Peter Gabriel, UN Goodwill Ambassador and Amnesty International laurels, acting in the abolitionist film on William Wilberforce (Amazing Grace) and just before he got his Yale Honorary degree for music in December, last year, he organised a Tunisian memorial concert to commemorate '2011 – the Year of the Arab Spring'.

Nor will he be the first artiste to be Head of State of Senegal if he succeeds.

The pioneer president of the West African State, Leopold Sedar Senghor was a renown poet, politician and cultural theorist (the founder of 'negritude' philosophy to counter France's assimilation policy in her colonies), and the man who nicknamed a younger Wade 'diombor' (the cunning hare) for his sneaky style of politics.

Teenage hood dream

In neighbouring Nigeria, the major post-modernist poet Christopher Okigbo was killed at 34 after, in his words, 'putting the pen aside for the politics' and going off to fight in the Biafran war of Independence, with an eye on a governor's seat after secession.

Nobel laureate for literature Wole Soyinka formed a political party 'the Organ of Collaboration for Progressive Forces' in 2010. In November, 1995, the separationist politician writer Ken Saro Wiwa was hanged by the bloody military regime of Sani Abacha.

One of the more amazing 'entertainer politician' stories in Africa is that of Madagascar, Andry Rajoelina, who went from being a club deejay in his late teens, to a radio anchor in his early twenties, to owning a radio station 'Viva Africa' by 30. At 33, he was elected Mayor of the capital city, Tananarive.

Rising to the apex

When he led protests against then president Ravalomanana, he was 'removed' from City Hall, but convinced the military top brass that at just 35, he was the best man for head of state.

Rajoelina is currently the third youngest country leader in the world, behind Montenegro's 35-year-old Prime Minister Igor Luksic, and new North Korean dictator Kim Jong-un, a young 'un' at just 27.

That latter tidbit should be chicken soup to PEN writer Kingwa Kamenchu, who is seeking Kenya's top job.

The first president of the Czech republic Vaclav Havel who died three weeks ago was another artiste who rose to the apex of political power in his Eastern European nation.

A playwright with more than 20 internationally acclaimed plays to his name, luminary essayist, poet, public intellectual and dissident, Havel's involvement with politics began when he was 32.

Following the 'Prague Spring' rebellion of 1968, he did a dissident (against the USSR) play 'Audience!' and ended up forced out of the theatre.

To earn a living, he worked for over a decade in a brewery, before getting presidency in 1989.

In the Phillipines, actor Joseph Estrada who had appeared in over 100 films across a 33-year career used his mass popularity to become Mayor of the town of San Juan for 17 years, then became Vice President, before taking the presidency in 1998.

But three years down the line, the credits ran on his political career as he was indicted for grand corruption, and ousted in a 'people power' revolution.

Ballot box success

Everyone knows the stories of the American actors – Ronald Reagan and Arnold Schwarzenegger.

Both parlayed their box office success into ballot box success that landed them in the Governor's mansion in California. But while Reagan moved, in 1980, to the even more prestigious address of 1600 Pennsylvania, Washington DC, Arnie became a washout after it came out he had played hanky-panky with the nanny, and many other women. And he won't be back!

Talking 'action' in the bedroom, porn and politics might not make for easy bedmates.

But there are women 'entertainers' like Ilona Staller who at 36, in 1987, became a Member of Parliament in Italy.

And Mary Carey who narrowly failed to capture the governor's seat in Nevada, but still made a 'pornitician' adult movie of the experience 'Run Mary Run.'

Back to Senegal, Youssou N'dour also owns a media infotainment group that comprises the popular newspaper L'Observateur,' TFM-TV, and of course a radio station, Future Medias.

In spite of Abdoulaye Wade's call for a 'unity government' ahead of the elections, it looks like Dakar may enjoy a double triumph in February, 2012 — global musician taking things full circle by taking the presidential mantle first held by a literary lion called Senghor of Senegal and their soccer boys, the Teranga Lions, taking the trophy of the Africa Cup of Nations.
Tecno launches Camon 19 and Spark 9
Tecno Kenya announces launch of Camon 19 series & spark 9 seriesThe CAMON 19 Series will offer incredible night-time photography features & the SPARK 9 Series will redefine selfie and iconic design for Gen Z.