Child 'drought brides' sold secretly in Kenya
By Katy Migiro
"It's done in the dark," said Fatuma Ahmed, squatting inside her makeshift stick shelter.
"Some people sell their daughters at a tender age so they can get food. It's common but people are silent about it."
Prolonged drought in northern Kenya has pushed many families, like widow Ahmed and her seven children, towards the outskirts of towns where they are more likely to get food and water.
Aid is in short supply and people are resorting to desperate strategies. It's illegal to marry under the age of 18 in Kenya - so the phenomenon of "drought brides" is only whispered about.
Child marriage is not unusual is this part of the world.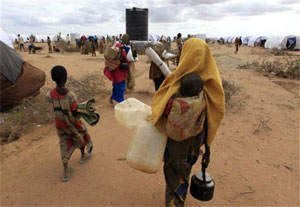 A newly arrived refugee family walks to a reception centre in Baley settlement near the Ifo extension refugee camp in Dadaab, near the Kenya-Somalia border, July 27, 2011. Prolonged drought has pushed many families to secretly sell their daughters for food. REUTERS

Many pastoralist communities, like Somalis in Habaswein, believe it is important to marry their girls off when they are young so that their honour, or virginity, is preserved.

Women who do not marry young are seen as flawed and a burden on their family.

"In our culture, girls marry as young as nine," said one local community health worker. "She is forced to marry someone when she is not willing. They are forced by their parents."

Among pastoralist communities, a "dowry", in this case a bride price, is traditionally given to the bride's family in the form of livestock.

"People marry when they have a dowry to pay and everything is in plenty," said Abdi Issak, a local aid worker.

"When it is green, the animals can drink from the water pans. You see it in the faces of the people. Their faces shine because they get enough food in their homes."

But most of the animals have died due to the drought that has affected around 10 million people in the Horn of Africa. The animals' carcasses litter the desert landscape.

Sold for $168

Now young girls are being sold, according to locals, for as little as 15,000 Kenyan shillings ($168).

"If he's wealthy, it can go up to 50,000 ($559)," said Ahmed.

Hunger drives the exchange.

"A mother will take a 14-year-old girl out of school and sell her to a man - even an old man - to get money to give the other children food," said a local chief. "Some households have 10 children and feeding those children is really hard."

Enrolment in his local primary school has dropped to 210 children from 350 since the drought started to bite last year.

"Over a hundred have been removed because of hunger," he said.

According to the United Nations, only one in five girls in North Eastern Province attend school.

Aid agency World Vision is unable to trace 400 of the 3,060 children it sponsors in the district. Some have been sent to stay with better-off relatives who can feed them. Some are working as maids in people's houses or in food kiosks.

But others are married off "just to make sure that the rest of the family does not die from lack of food", said Jacob Alemu, World Vision's local programme manager.

- Reuters
CIOC convenes crisis meeting over new laws
The chairman of the Parliamentary Oversight Committee (CIOC) Abdikadir Mohamed has called a crisis meeting this morning to deliberate on the way forward on the crisis facing the implementation of the new laws.