Woman killed in Mandera militia attack
By Cyrus Ombati
One woman was killed and at least ten people injured in the ongoing fighting between Somalia's Al-Shabab militants and forces affiliated to the Somalia Transitional Federal Government (TFG) in Mandera.
Kenya Red Cross Society (KRCS) offices in the area were attacked in the fighting but the six staff who were present were not injured.
"Several bullets flying in the air across the border have hit the KRCS) offices in Mandera, where six members of staff are holed in," said Secretary General Abass Gullet.
The fighting, which spilled from the Ethiopian/Somalia border pitted Al Shabaab against pro-government group Ahlusunna Waljamaa, which supports the Transitional Federation Government (TFG).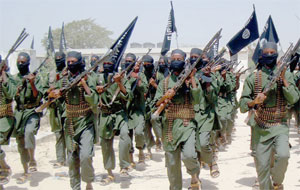 Al-Shabaab militia in a training session. The militia group was suspected to have launched the attack on Mandera in the remote North Eastern Kenya. [PHOTO: FILE/STANDARD]
Mr Gullet said the fighting, which went on for the third day yesterday, forced many locals to stay indoors.
He said he hoped KRCS offices will be protected.
"The (Red Cross) emblem is a protected symbol under the Geneva Conventions and all warring parties are required to protect it," Gulet said in a statement.
He said hundreds of Somalia refugees are scattered on the Kenyan side as it is risky to gather in camps.
The fighting, he said, had delayed humanitarian response as refugees who require food and shelter cannot access any relief aid under the prevailing situation.
The military said they will not condone any further attacks from Al-shabaab and warned they may attack the militia group.
"Al-shabaab are provocative, unnecessarily aggressive and disrespectful to our territorial integrity and sovereignty.
"We have deployed forces to take care of our borders and we are only restraining them because we respect the territorial integrity of a neighbouring country," said Military spokesman Bogita Ongeri.
"They keep threatening to attack Kenya, secretly abducting people and bombing hospitals and later on blaming Kenya for their own making.
Threat to humanity
They are a threat to peace in the region and we cannot allow them or their associates on our soil because they are a threat to humanity," he added.
Yesterday's incident came after at least 50 patients narrowly escaped death when two shells launched by Al-Shabaab landed and exploded within the Mandera District Hospital compound.
Two other houses were reduced to ashes after two bombs landed there in another attack, which left eight others injured on Wednesday.
The missiles were meant to strike the hospital where the Al Shabaab militia thought their rivals who had been injured in an ongoing fighting in border towns of Suftu and Bulahawa were seeking treatment, officials said.
North Eastern PC James ole Serian told The Standard On Saturday that one of the shells exploded within the hospital compound while the second one landed on a nearby road.
"Fortunately, the shells did not explode on people or structures. This is a war that started in Somalia and spilled over here," said Serian.
The incident happened on Wednesday afternoon after a daylong shelling that had happened across the border, police said.
Chased rivals
Police and military said Al-Shabaab had chased their rivals into Kenya before meeting resistance from the military.
TFG has launched an offensive on Al-Shabaab from Ethiopia and within in efforts to drive the militia out but there is a serious resistance.
On Wednesday, a Kenyan military Land Rover was involved in an accident injuring seven soldiers. Three of the soldiers were airlifted to Nairobi for treatment.
Mr Ongeri said the vehicle was patrolling the area.
"It was a normal accident and so far those who were injured are being brought to Nairobi. The personnel were on patrol when the vehicle rolled. They were not attacked," said Ongeri.
Commissioner of Police Mathew Iteere said they had taken measures to deter any incursion. "It is their war but we have taken measures to address any eventuality."