Officers move to stem looting at odd armoury
By Cyrus Ombati
Nairobi County
Military personnel have moved to the site where youths looted colonial army wares including guns, uniforms and explosives.
But Nairobi's Baba Dogo residents protested demanding to know why the armoury was not guarded.
The personnel began scrutinising some of the remaining wares.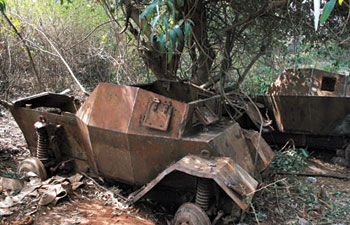 Dangerous find at Baba Dogo in Nairobi

They also carted away some of them as their seniors took an inventory of what they saw.

Those who talked to The Standard at the site yesterday said they wanted to understand what was looted and the danger the wares pose to locals.

Police also arrived with a grader to dig and check if there were any wares left in three bunkers.

50 years ago

Although Commissioner of Police Mathew Iteere downplayed the looting, experts said the explosives could be dangerous.

Mr Iteere said they are yet to know if guns and explosives, which belonged to British Army, were there. Residents said they saw youths escape with rifles and other weapons.

"The warehouse was sold to a businessman nearly 50 years ago, but it seems he did not inform authorities there were such things," said Iteere.

Witnesses said they saw bomb experts carry away at least four explosives abandoned there by the youth.

It is not clear why the warehouse, which had an armoury, was not guarded. Three old military tanks, uniforms, caps and boots were found in the two warehouses.