Revealed: Why Mau Mau militia sought Kenyatta's head
By Amos Kareithi
Like a daredevil holding the tiger by the tail, John Peter Kamau lived through revolutions making friends and discarding them at his convenience.
The man Kenyans would later idolise as the founding Father of the nation had a knack for spotting trouble.
Jomo Kenyatta, for that is the other name of the young man, who fled Kiambu at the onset of the World War II to avoid conscription, had a sharp mind and exploited the earliest opportunity that came his way.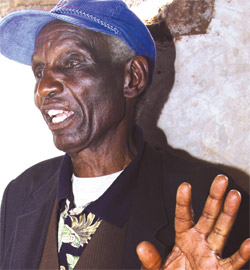 Mau Mau veteran James Waweru says Kenyatta told them he had nothing to give them. Photo: Martin Mukangu/ Standard
Kenyatta's name evokes different memories in different people with some dismissing him as a sellout, who used his comrades-in-arms as ladder to climb to power and later kicked them aside.
To Kenyatta apologists, he is the greatest freedom hero, Kenya and even Africa ever produced for his sacrifice in the liberation struggle.
Whatever their standpoints, foes and friends agree the founding father was a charismatic leader whose life, pains struggles and triumphs are entwined with the country's destiny for better or worse.
top secret
His early life was full of contradictions as he exiled himself from being conscripted into the British colonial army in 1918, but ended up spending fifteen years of his prime in the Queen's country, while his motherland choked under colonialism.
A trip to Githunguri, where Kenyatta's political career was born is an eye-opener. Many remember him in awe, while some are angry with him.
When Kenya's last Governor Sir Patrick Renison denounced Kenyatta as leader of darkness and death in 1960, he was misinformed, for if was privy to intelligence reports, he would have known better.
This was like a crown on a man who had been threatened with death by a group of hardcore Mau Mau militants, shortly before he was arrested in 1952, because he was too moderate and had even denounced their guerilla tactics.
The plot to assassinate Kenyatta had been hatched by a group operating with the Kenya African Union (KAU) to disguise its activities but was secretly code-named 'Muhimu'.
So secret was this group that Mau Mau survivors feign ignorance or simply describe it as the name of their last oath before entering the forest.
"These militants were Kenyatta's enemies and he feared them. He spoke against the violence of Mau Mau during 1951 and 1952 because he saw it as uncontrolled and undisciplined," writes David Anderson, in his book, 'The Histories of the Hanged.'
Slept with enemy
The task of eliminating Kenyatta was assigned to Fred Kubai, a member of 'Muhimu', which was led by Eliud Mutonyi, JD Kaggia, James Beuttah and Paul Ngei. Kaggia alluded to this plot in his book, 'Roots of Freedom'.
The violent group had been started by a group of veterans who participated in the World War II, only to return home to joblessness and poverty in Nairobi's Eastlands.
Code-named 'Anake a Forty' (Young men of forties), some veterans drifted into crime and later plunged into politics.
Earlier, the militants, who had electrified the whole country with sessions of mass oath administration and killing suspected traitors, had humiliated Kenyatta during KAU elections in Nairobi.
During the KAU elections on June 10, 1951 at Kaloneni, Nairobi, they wrestled the party leadership from Kenyatta's group, who they considered cowardly.
Kenyatta was indeed lucky he and other freedom fighters were arrested during the Operation Jock stock on October 20, 1952. Others who opposed the Mau Mau met violent deaths.
Kenyatta's friend, Henry Mworia was to write in the book White Man's Fury that Mau Mau was a creation of the former enemies, who wanted to antagonise the Kikuyu community by spreading hate and violence.
Such was the plight meted on Chief Nderi of Nyeri when he stumbled on a group of Mau Mau administering oaths in his location in broad daylight.
He was hacked to pieces after he attempted to disperse them.
Kenyatta had earlier stoked controversy, when he was sent to Britain by the Kikuyu Central Association, but had to be recalled after he overstayed and literally slept with the enemy.
Mworia, who had acted as Kenyatta's bridge with Kenya by publishing his letters in 'Mumenyereri', explains that Kenyatta had been prevented from returning to Kenya.
"At one time when I was staying in London, I asked those in authority to let me return home for six months and talk to my people and then kill me if they wanted, but they refused," Mworia writes about one of Kenyatta's letters in his book.
When he came back in 1946, he married, Senior Chief Koinange's daughter, Wanjiku, startling extremists who treated all provincial administrators as traitors.
He then joined his brother-in-law, Mbiyu Koinange in running Githunguri Teachers College, funded by all age groups of the Gikuyu community.
Mr Karanja wa Kiondo, 82, recalls this was the genesis of Kenyatta's bid to unify people.
"He was fond of administering oaths. I remember he would ensure everybody involved in running the college was sworn to loyalty to the community and the public," he recalls.
Secret oaths
Another elder, James Karanja Waweru recalls how Kenyatta would receive contributions from each age group in Central Province.
"You could not be appointed by the elders to take money to Githunguri if you had not taken an oath. On arrival at Githunguri, another oath had to be administered to bide you with the others," Waweru adds.
Waweru recalls how on in April 1952, KAU leading politicians Kenyatta, Kubai, Kaggia, Ngei and Kung'u Karumba attended a meeting in Ol'Kalou and later retreated to Peninah Wambui's house.
"Kenyatta gave instructions that oath be administered to some new members he later left. Later that night the six men were arrested and taken to Naivasha. Their case became significant because the name Mau Mau had gained prominence," he adds.
Long after the last of the Mau Mau seven generals had crawled out of the forest, a group of 3,000 former freedom fighters visited President Kenyatta at Gatundu, seeking compensation.
"We were led by our chairman Ezekiel Tumbo Mwai, and upon listening to us, Kenyatta told us he had no money as he had used our compensation to settle the landless in parts of the white highlands. He said he had nothing to give us," Waweru adds.
For this and his address in Nakuru where he told panicking white farmers that Kenya was large enough to accommodate blacks and whites, Mau Mau freedom fighters felt betrayed.
Tecno launches Camon 19 and Spark 9
Tecno Kenya announces launch of Camon 19 series & spark 9 seriesThe CAMON 19 Series will offer incredible night-time photography features & the SPARK 9 Series will redefine selfie and iconic design for Gen Z.