Villagers switch on power to the people
By Amos Kareithi and Boniface Gikandi
The roaring water cascading down the river and raising a misty spray is a spectacle to behold.
Villagers of Ireke Village, in Mathioya, Murang'a District appear not to notice nature's spectacle of a surging confluence which has been part of their environment for ages.
However, their decades of nonchalance came to an end six years ago when a delegation of farmers from Kiambu visited a nearby coffee factory.
The visitors seemed captivated by the bewitching beauty of the waterfalls and wanted to know if locals had ever used the rare resource to better their lives, says retired teacher, Joseph Kinyua Kiragu.
What started as an innocent question provoked the residents to dream of ways to harness the waters of River Godo to more use than just irrigating vegetable farms..
Another resident, Kimathi Kiruhi, recalls the visitors told them the waterfalls could be a source of electricity which the villagers had never dreamt of.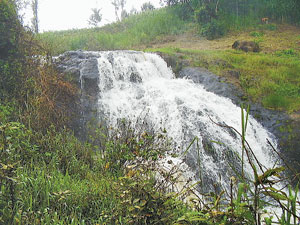 River Godo on which villagers in Mathioya, Murang'a District, have put up a micro hydro-electric power project.
"This power is enough to supply all the 1,020 residents who have registered with us. We have also bought a turbine and we are in the process of installing a bigger plant," Kiruhi says.
To be connected to the Kahinduini power grid, a resident must pay Sh14,000 which caters for the cost of wiring the house.
"This is not a lot of money, considering there are no metres and no monthly bills. We pay a standing charge of Sh100 to finance greasing of the turbines and replacing of poles," Wangui says.
Since she was connected to the village power line, Wangui says she rarely buys kerosene as she used to.
"I am confident that once the project is expanded, I will not only use an electric cooker but also our village paths will have street Lights.
There is a team of technicians who do maintenance and disconnect those who do not pay the monthly fees.
Disconnection
"If a consumer does not pay Sh100 as required every month, I just climb up the pole next to the house and disconnect the cable. We do not have meters and so this is the easiest method," Peter Mwangi who is in-charge of maintenance says.
Under the current legal framework, Kahinuini cannot install meters and charge because KPLC is the only institution mandated by law to do so.
Cashing in on a sunken village
Kenya is blessed with a unique geological landscape that offers a wide array of scenic attractions and a variety of climates.