In court: MPs face charges of incitement
By Wahome Thuku
Looking lost, stunned, and fatigued three MPs stood in the dock as charges that could break their parliamentary careers, if found guilty, were read out.
Hanging on the necks of the three – Assistant Minister Wilfred Machage, Mt Elgon MP Fred Kapondi, and Cherangany MP Joshua Kutuny – are charges whose penalty in a court of law is scary and unimaginable to a politician.
They were hauled in court alongside the widow of former Chief Justice Christine Nyagitha Miller, after spending the night in police cells following their arrests on Tuesday.
The case against Kutuny appeared the most serious, as he was charged with distribution of leaflets targeting certain communities. The crime has no provision for a fine if one is found guilty, and carries a maximum jail sentence of five years. To be freed on cash bail Kutuny had to pay Sh200,000, which is twice what his colleagues were asked to.
Dr Machage and Mr Kapondi were charged with making hate speeches, but the Assistant Minister's case looked more serious as his were split into four counts, each attracting a total of Sh4 million fine if found guilty, or a maximum of 12 years in jail.
Kapondi faced one count, which similarly is on the Sh1million threshold if court finds evidence to support the charge. Like Machage's, his one count invites a maximum sentence of three years in jail if convicted. Unlike Kutuny's case, however, the silver lining in charges against them is they are fineable.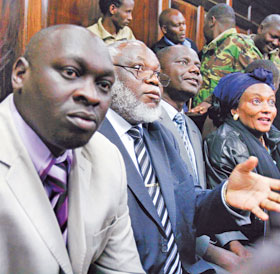 The 'No' campaign leaders, above, Cherang'any MP Joshua Kutuny, Assistant Minister Wilfred Machage, Mt Elgon MP Fred Kapondi, and Ms Nyagitha Miller at the High Court on Wednesday.

In Kenya, if an MP misses eight consecutive sittings of the House, he or she could lose his or her seat. The same applies if one is jailed for more than six months.

Incitement

Higher Education Minister William Ruto, who is the de facto leader of the side opposed to Proposed Constitution, which the three belong to, sat in court alongside Burett MP Charles Keter who was sacked as Assistant Minister because of his close ties to him. It must have crossed his mind if the three MPs who are in the 'No' trenches with him would also suffer for their elective decision and style of operation.

Like Kutuny, if found guilty, Miller's case of incitement invites a maximum sentence of five years without option of a fine. She is a Kiambu businesswoman and politician.

Machage, who is the Kuria MP, and Kapondi became the first victims of the National Cohesion and Integration Act, a law Parliament enacted in December 2008 to curb ethnic hatred. The joint charges against Machage, Kapondi and Miller arose from speeches they made during the launch of the 'No' secretariat at Upper Hill, Nairobi, last Thursday.

Kutuny is accused of having distributed inciting leaflets in Kitale Township on unspecified day last month, warning some communities to leave Trans Nzoia, Uasin Gishu, Ndalu, Lugari and Naitiri settlement schemes.

Under the National Cohesion and Integration Act, making a hate speech that stirs ethnic hatred attracts a maximum Sh1 million fine, or three years in jail or both. Incitement to violence attracts five years imprisonment without the option of a fine.

Machage is accused of having made the first statement that: "Wamaasai chenu hakiko Rift Valley, mashamba yenu yote yataenda na serikali, (The Maasai you have nothing in the Rift Valley, all your land will be acquired by the Government.)

A second statement read, "Wakikuyu wahame Rift Valley mahali kulimilikiwa na Wadorobo (Kikuyu to vacate Dorobo land in the Rift Valley.)

In the third charge, he was accused of having said: "Nairobi tokeni hii ni shamba la wa Maasai (Leave Nairobi as its Maasai land.)

The last statement read, "Wajaluo wahame shamba la wa Kuria hata tutatumia nguvu (Luos to vacate Kuria land by force.)

Kapondi is alleged to have uttered words, "Vile mnavyojua, Trans Nzoia ni yetu na wanasema ni metropolitan, ata Bungoma ni yetu na ata jina mnaskia, sisi tunawaambia hii katiba ikipita watu wa Tran Nzoia wafunge virago vyao waende, wale wako Bungoma katiba ikipita vile vile wafunge vilago waende.

(You know Tran Nzoia is ours though they say it is metropolitan, even Bungoma as the name suggests is ours. Once the draft constitution is passed, Trans Nzoia people and those in Bungoma should pack and leave.)

Mrs Miller is said to have uttered words: "Kwa nini watu wa 'Yes' hawajakuja Central ni kwasababu wanajua huko kwetu pale Githunguri tutawapiga na mawe na tuwaambie hapa ni 'No'." (The 'Yes' group has not come to Central because they know in Githunguri we shall stone then and let them know that we support 'No'.)

Police claimed the remarks were calculated at causing danger to 'Yes' campaigners or to destruction of property.

They were arraigned before Nairobi Chief Magistrate Gilbert Mutembei and they denied the charges.

They were driven to the courts just before 9am and ushered into the basement cells. An hour later they were walked through a dark basement alley that leads straight into the dock where they emerged in a packed courtroom.

Ordinarily, VIP suspects go through the main door and sit in the public gallery waiting for their cases to be called out. Though Machage and group were not in handcuffs the only special treatment they got was when other criminal suspects gave them space at the wooden bench in the dock.

They posed for pictures then sat and charted heartily with journalists for another 40 minutes before the court session began.

Soon after they had pleaded to the charges, eight lawyers led by Mr Katwa Kigen enlisted to represent the accused.

Chief Prosecutor, Onesmus Towett, applied to have them detained for three more days for the police complete investigations.

Towett produced an affidavit sworn by the lead investigator Robert Mabeya claiming new issues had come up since they were arrested.

Good standing

Mabeya claimed the accused were likely to interfere with investigations and even abscond. He applied to have Machage, Kapondi, and Miller remanded at Pangani and Kutuny at Muthaiga Police stations

Katwa opposed the application, saying it was intended to embarrass and humiliate his clients, especially since police had not disclosed the nature of the investigations they intended to carry out.

He said police had not explained why they had not conducted all the investigations since the offences were said to have been committed days ago.

Katwa said his clients had taken themselves to the CID headquarters, adding they were citizens of good standing. The four were taken back to the cells to wait for the ruling later in the afternoon.

Mr Mutembei ruled no justifiable reasons had been given to warrant remanding them in police custody, and ordered their release on cash bail. They will all report to the CID headquarters today morning.