'Confessions of a Harlot'
By Kiundu Waweru
Jesus Christ, a handsome young man, walks along Nairobi streets with his disciples trying to save lost souls. Unknown to him, four harlots, led by the beautiful Jasmine, who ply their trade along Koinange Street and who are awed by this cute humble man walking along with other men who Jasmine sees as "cash", want him for their dirty little games.
What transpires is the complete opposite of Jasmine's wishes as she ends up anointing Jesus with Alabaster perfume and getting saved in this Easter play dubbed Confessions of a Harlot. The play is inspired by the 'sinful woman' in the Bible who touched Jesus and washed his feet with perfume.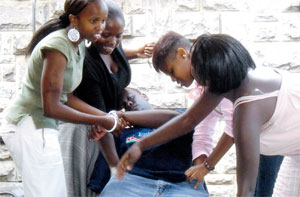 A scene from the play. Photos: Kiundu Waweru/Standard

"The play is about why Jesus died… to save the sinners. I drew it from the sinful woman, expounding on the verses as I feel the Bible does not elaborate what 'sinful' meant," says Oduor Jagero, popularly known as Koa, the play's writer and producer.

The play revolves around the life of Jasmine played by Linda Ciku, a girl who runs away from an abusive father, to come to town and find means to feed her sister and mother. Jasmine lives with her three friends and fellow prostitutes at 'Koinange Flats' and their list of clients consists of society's crËme de la crËme, MPs, diplomats, ministers, bishops…and soon they start living the high life.

Though the writer has done a good job, the play's plot is complex as writer uses flashbacks, where the lead character travels back in time.

Physically abused

"Jasmine's father, Bablo was incensed that his wife bore him only girls and he turned to the bottle, physically abused her daughters and absconded his responsibilities in the process creating a prostitute of her daughter who is consumed with deep anger and resentment towards him and revenges by stealing, extorting, and exploiting men that go with her," says Koa.

After sometime along Koinange Street, Jasmine returns to the village to find that her younger sister, Aquilas, died six months after she left home from hunger. Her anger intensifies. And since her mother is helpless, Jasmine urges her to go back with her to the city but she refuses as she is still held by traditions.

Despite the highlife, Jasmine, has one regular man, an MP, who pays the bills

Consumed with guilt, anger and bitterness and Jasmine thinks there must be away out, a better way of life than selling ones life. She vows to find the truth.

Enter Jesus. A handsome preacher in the streets of Nairobi who is "humble, understanding and non judgmental." Says his creator, Oduor.

And all the harlots want to pull a fast one on him, until he salvages Jasmine in Simon's house.

"My character is very difficult to execute," agrees Linda, "because you have to make believe, you have to fit in as Jasmine, a harlot. But I love the play so much and I am glad because I know it will touch many peoples lives, mostly young girls as it's a story of what happens in real life; peer pressure, money, love and lust and domestic violence."

And Linda confesses that somehow, the play connects with her personal life, as she has an experience with domestic violence; with a twinkle in her eyes, "I am acting my life out." She is quick to digress though.

Acting prowess

The cast was carefully selected, with Jesus, Brian Mutua, fitting the bill, a degree of handsomeness, and of course, acting prowess. Jasmine's fellow Harlots are Viva (Angela Nancy) Sugar (Waridi Solo) and Chilli (Olive Kart.) Fred Ndegwa plays the honorable MP who in one scene is drugged and robbed by the ravenous harlots.

Linda Ciku is a German language student as she prepares to join University of Nairobi where she will be studying Law in line to her dreams of becoming a criminal lawyer. She confesses that she is always composing songs and singing and as she had never acted before, she was surprised to get the leading role during auditions.

"We were looking for someone who would fit Jasmine's role; being able to cry on stage, one time extremely ruthless and then morphs to a humble creature the next second." Says Oduor.

The production which airs today and tomorrow at the Kenya National Theater from 2pm is worth checking out. It will open with the poem, A Little More, from Sitawa Wafula and close with another poem, My Perfume, My Worth, by Caroline Karanja.