University staffers issue strike notice
By Sam Otieno
More than 20,000 teaching and non-teaching staff at public universities will down their tools in two weeks.
This is after the Government failed to honour a Sh2-billion pay deal agreed upon through a Collective Bargaining Agreement (CBA) two years ago.
On Thursday, the workers, represented by their three trade unions, said they had issued a seven-day strike notice unless the negotiated 2008/2010 CBA is implemented.
They also demanded that the salary arrears be paid in full as promised on or before end month.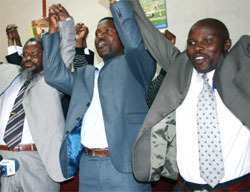 Leaders of university unions addressed the Media at the Sonalux House in Nairobi on Thursday. They vowed to strike, unless the 2008/2010 agreement between them and Government is implemented. Photo; collins Kweyu/ Standard

The three trade unions are Universities Academic Staff Union (Uasu) representing lecturers, Universities Non-Teaching Staff Union (Untesu), representing senior non-teaching staff and the Kenya Union of Domestic Hotels, Educational Institutions, Hospitals and Allied Workers (Kudheiha).

"The stalled negotiations of 2010/2012 should be commenced within the next 14 days to avoid industrial action," said Uasu Secretary General Muga K'Olale.

VCs blamed

The workers took issue with the Vice-Chancellors' committee chaired by Maseno University VC Frederick Onyango for not honouring their promise.

In a letter dated September 13, Prof Onyango, on behalf of vice chancellors, said the Government would release money agreed on in two tranches.

According to Onyango, Sh1.94 billion was to be released immediately to clear part of the backlog, while the remaining tranche was to be released after the revised estimates in January 2010.

"We are surprised that the Government has failed to honour its own promise," said Dr Charles Mukhwaya, Secretary General Untesu.

Mukhwaya said workers' patience was running out.

"Our workers are ready to go on strike. They have done their part, it is now up to the Government to do its part," said Mukhwaya.
'My husband promised to be home early'
Rather than run to the local Administration Police post to report problems, residents in an area of Kericho West District have been cowering in fear when they see police officers.