They live like paupers but return home as kings
By John Oywa
The tiny tent cobbled from tattered pieces of tarpaulin and mosquito nets stands on a squalid backyard in downtown Juba where mounds of garbage and informal human settlement resemble scenes in Nairobi's Mukuru slums.
Acrid smell from pit latrines, sweltering afternoon heat and the roar of giant generators combine to make life unbearable.
The tent appears unfit for human habitation, yet it has been the treasured home to one of Kenya's investors in the sun-baked Southern Sudanese capital.
It is from this tent that Joseph Mulimi from Kakamega, Western Province lives and runs his business empire in Sudan.
The Standard on Saturday team on assignment in the war-battered semi-autonomous Southern Sudan watched in shock as Mulimi crept into the shack he has lived in for three years.
Proud landlord
Mulimi's tent is not only an eyesore but dreadful for a man who owns property and business in a foreign country. He is a proud owner of 15 residential houses in Juba from which he earns more than Sh105,000 per month. Seven of his rented semi-permanent houses are in the city centre. Eight others are near the Juba Airport.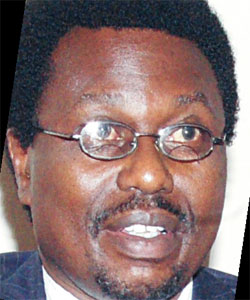 Kenya's Consular General in South Sudan, Dr Joseph Kiplagat. [PHOTOS: MBUGUA KIBERA/ STANDARD]

He leased land from a Southern Sudanese and constructed temporary structures, which he rents out at, between $250 and $300 (about Sh24,000) per month.

He owns carpentry and welding workshops and is a contractor for several NGOs.

Asked why he lives like a pauper despite his investments, Mulimi paused and forked out photos showing his struggles in Juba.

"I waded through heaps of garbage to build these houses. I cannot live in luxury because in this country you cannot combine leisure and business."

His lifestyle is, however, not a surprise to the Kenyan community living in Juba. Here, many Kenyans would rather live like paupers but return home as kings.

"They live harsh lives in Juba but many of them are millionaires with massive investments back home," says Martin Mbugua, a consultant with an NGO.

'I have no regrets'

Mulimi, for example, cuts the figure of an ordinary village man while in Juba but often flies home to enjoy a cozy life with his family. Two of Mulimi's six children are in high cost colleges in Nairobi.

The Standard on Saturday visited a Kenyan consultant who lives in a congested one-room shack built with mats and partitioned with carton boxes. He bathes in the open, under the cover of darkness and shares the toilet with several other people. He pays $300, about Sh24,000.

But the 35-year-old consultant from Nyanza, who requested anonymity because of the sensitivity of his job, says he is not bitter.

"I have no regrets for leaving my former employment to come to Juba. I own a big house and a decent car in Nairobi where my family lives. I have bought three prime plots and I am planning to buy my second car — a state-of-the-art Land Rover," he proudly says.

Although life is harsh in Juba because of high cost of living, employers pay handsomely, says the consultant.

The Kenyan consulate in Southern Sudan put the population of Kenyans in Southern Sudan at 30,000 though independent sources estimate it at 50,000, spread in the major towns. Out of these, about 10,000 are in Juba.

Many Kenyans rushed to Southern Sudan in 2005 soon after the signing of the Comprehensive Peace Agreement that ended 21 years of civil war between the South and the North.

A survey in Juba and Rumbek showed a flourishing Kenyan community that has adapted to the harsh environment and socio-cultural difficulties to make an extra shilling.

Besides the plum jobs at the UN Sudan operation headquarters, Kenyans are found virtually in all sectors in Southern Sudan. They dominate the construction and hotel industries, supply chain, aviation industry, entertainment and even government circles.

Kenyans either run bars or they are the majority employees. They also own garages, pre-fabricated guest houses, salons, barber shops and nyama choma dens which are not only frequented by Kenyans but high ranking Sudanese politicians.

Kenya's Consular General in Juba Joseph Kiplagat estimates that middle and low-level cadre Kenyans living and working in Southern Sudan remit home about $18 million (Sh1.3 billion) per year. This excludes big constructors and corporate investors such as banks. Kenyan banks — Kenya Commercial Bank and Equity — have opened branches in Southern Sudan, and Co-operative Bank would open a branch there soon, said Dr Kiplagat.

Teachers have not been left behind. Sources estimate that there are about 4,000 Kenyans teaching in the Eastern Equatorial region where they earn $400 (about Sh30,000) per month.

George Odhiambo who runs a garage and taxi services, says the best garages in Juba and Rumbek are run by Kenyans. They are the ones who repair NGO fleets.

Big-Time investors

"After working as a mechanic for a few months, I bought a car and started taxi business to supplement my income," says Odhiambo.

The Standard on Saturday established that most of the service industry in Southern Sudan is run by foreigners, most of them Kenyans, Eritreans, Ethiopians and Ugandans.

At the Juba open-air market, Kenyans sell anything from food to herbal medicine. Maasai morans from Narok and Trans Mara have flooded the market with their herbal medicine.

To cut costs, the morans sleep in the open in a space provided by a local businessman whom they said is one of their customers.

Although the public transport industry is dominated by Eritreans, a number of Kenyans own a few matatus serving the town and the suburbs.

Living on the fast lane in Juba are big-time Kenyan investors who have won lucrative tenders to build roads, bridges, schools and hospitals. Those in this category usually work in Juba but live in Nairobi. They swim in money and can afford to charter planes.