Kibaki humbled as Ringera quits
By Peter Opiyo and Beauttah Omanga
Justice Aaron Ringera gave in to public and parliamentary pressure, dispatched a resignation letter to the President, and faced the Press to break the news.
The Kenya Anti-Corruption Commission's besieged director threw in the towel to reclaim what remains of his honour after claims he was being propped by those who perceived him as a safe bet, one who won't fight corruption with the passion needed to win the war.
He gave no clue in the news conference beamed live on television and followed by thousands, on his next move. But his unsurprising step handed Parliament a historic triumph over the Presidency and its executive authority.
Newsrooms had, in fact, started writing his epitaph at KACC from the time Parliament rejected his appointment and vowed, if he stayed on, it would wield its legislative power to disband KACC.
Though Ringera maintained there was no illegality in his reappointment, and he had not put a price to his exit, President Kibaki who thrust him into the eye of the storm was at Jamhuri Park Showground presiding over the official opening of the Nairobi International Trade Fair.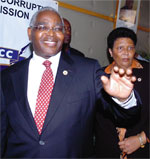 Justice Aaron Ringera and his deputy Fatuma Sichale leave Integrity Centre shortly after they announced their resignations from the helm of Kenya Anti-Corruption Commission on Wednesday. [PHOTO: MOSES OMUSULA/ STANDARD]

the President's powers by the Tenth Parliament, or rather the fury with which it went for its own powers it said had been usurped by the President, raised the question what other Executive decision would MPs veto next.

Ringera, for the last time as KACC chief, defended himself against claims of failure in office, maintaining his hands were tied because he did not have the powers to prosecute.

But as he left, Ringera said the billions of shillings lost in mega-scandals, such as Anglo Leasing might not be traced unless the anti-graft body was given teeth to bite.

He pointed out KACC's failure to obtain mutual legal assistance to trace money and help from foreign countries. The Mutual Legal Assistance Bill is, however, before Parliament awaiting debate.

The crestfallen Ringera walked in at Integrity Centre's boardroom at 3.45pm and his first paragraph was: "My reappointment as the director of KACC and that of two assistant directors has raised a national storm and led to a parliamentary debate hitherto unwitnessed." He then dropped the news of the day: "The deputy director and I have considered all the happenings and have come to conclusion that it is in the best interest of Kenya, KACC, and the future of its staff as well as in our own interest to exit from the leadership of the commission."

Shakespearean wisdom

Retreating to his favourite source of quotes, William Shakespeare, he said: "All the world's a stage, and all the men and the women merely players, they have their exits and their entrances, and one man in his time plays many parts."

Ringera gave a count of his tenure, saying the had investigated and recommended the prosecutions of eight ministers, four MPs, 11 permanent secretaries, 65 directors and heads of public institutions, seven chairmen of boards of public institutions, and 96 other senior management officers of public institutions.

He said KACC's was a success story, explaining he forwarded 506 files, with recommendations to prosecute in 389 files.

He said the commission has recovered assets worth Sh4.5 billion over the past five years.

As he quit the plum post that has a price tag of Sh2.5 million, Ringera said he would not apply for the post when it is advertised, and for two months, he just wants to rest before thinking of his next move.

Asked why it took him that long to resign, Ringera explained he had to conclude various reports, saying a public office was not a walk-in walkout session.

"As I speak my in-tray and my out-tray are empty," he said.
Ringera resigns from KACC
Embattled director of the Kenya Anti Corruption Commission Justice Aaron Ringera finally bowed to public pressure and resigned.