Sudan's hostility threatens warm ties with Kenya
By Joe Kiarie
Internationally, one of Kenya's strongest points is brokering a peace deal that ended more than 20 years of civil war in Sudan.
However, the recent incessant negative gestures from Sudan, experts say, are a slap in the face.
Over the past two years, the Government has been forced to officially confront Sudanese authorities over harassment of Kenyans in Juba and cattle rustling in northern Kenya, among other issues.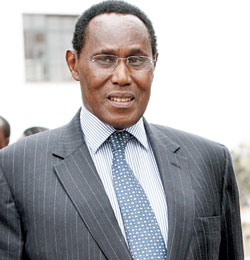 Internal Security Minister George Saitoti
But the climax of the unfriendly gestures is harassment of two Cabinet ministers by Sudanese soldiers.
The harassment has prompted an official apology from Sudan, although Foreign Affairs Minister Moses Wetangula has warned Kenya would not tolerate such incidents in future.
Questions now abound as to what the future portends for the two long-time allies, with conflict experts saying Sudan's gestures hold more than meets the eye.
International Centre for Policy and Conflict Executive Director Ndung'u Wainaina says the gestures could either have been provoked by a border dispute or Sudan's efforts to assert its sovereignty after decades of dependence on Kenya.
"Kenya and Sudan have a border dispute over the ownership of the Ilemi Triangle," Ndung'u says.
He says the fact that the triangle is the gateway to unexplored oil reserves in Southern Sudan could be the reason for the conflict.
"This area is administered by Kenya but claimed by Sudan and the issue should not be taken lightly, especially after the Migingo dispute," Wainaina says of the area that measures between 14,000 and 10,320sq km, and which Ethiopia also claims.
He says it is also suspicious the Sudanese People's Liberation Army (SPLA) soldiers have been manning a roadblock, about a kilometre within Kenya's side of the border.
"Why? Other countries usually have roadblocks at the border post or within their own territory. It might be a plan to change the border post," he says.
A recent Cabinet decision requires that all Immigration offices be located at the border. The Immigration office is located at Lokichoggio township, about 10km from the border post.
Blocked at the border
Immigration Minister Otieno Kajwang' was last week forced to call off an official mission after Sudanese soldiers manning a roadblock on the Kenyan side of the border blocked him.
Kenyan Immigration officials were also recently harassed by Sudanese forces as they w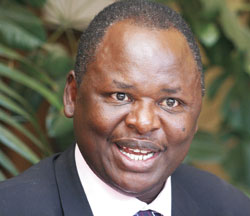 Immigration Minister Otieno Kajwang'

ent to the border post to assess the ground before relocating office.

But the Ministry of Foreign Affairs has sought to ease the suspicion over Sudan's gestures, saying although the harassment of the ministers was unfortunate, it should be treated as a case of few overzealous soldiers.

"We have a cordial working relations with Sudan," Prof Igara Kabaji, the director of public communications at the ministry, told The Standard on Saturday.

He said the Ilemi Triangle has not provoked any tension. He said the two countries are addressing the issue.