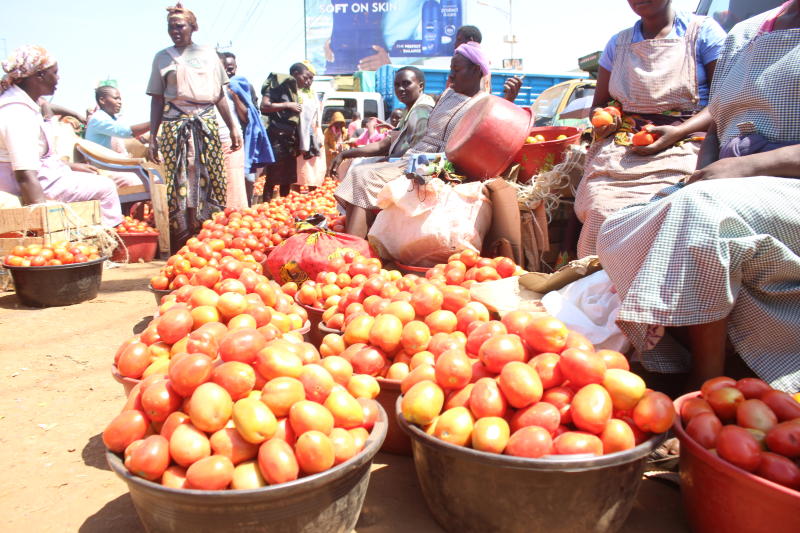 Prices of many agricultural products have shot up over the past one month in the North Rift.
Tomatoes, potatoes and cabbages are retailing at a higher price owing to scarcity.
A kilo of tomatoes now goes for Sh80 up from Sh10.
The scarcity has been attributed to heavy rains in the region. Most crops are normally affected by heavy rains.
"Demand for tomatoes is high due to scarcity following heavy rains. Most of the produce is sourced from neighbouring Uganda. We get others from a few farmers who own green houses," said Mr Jackson Kwambai, a tomato farmer from Moiben in Uasin GiShu County.
Read More
Kwambai said he plants a variety that is resistant to blight and other diseases.
"A kilo of tomatoes is retailing at Sh80 up from Sh10 between May and June. I will now harvest my tomatoes, I was targeting August when tomatoes are usually scarce in North Rift," said Kwambai.
Eunice Kigen, a trader in Eldoret, said the price of potatoes had doubled. "A 25kg bag of potatoes is retailing at an average of Sh2,500 from Sh1,000 in the past three weeks," said Kigen.
She said farmers spend heavily on chemicals to control diseases during the rainy season.
Mary Kili, a trader at the Eldoret main market, said middlemen had worsened the situation.