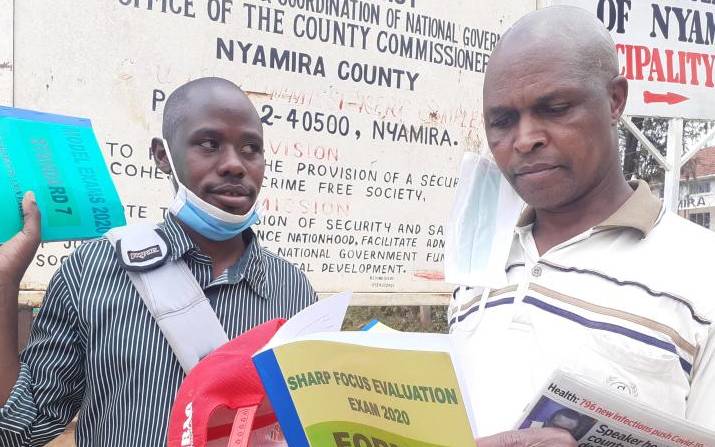 After losing his income following the abrupt closure of schools due to coronavirus, Reuben Maina had to find a quick solution on how to fend for his young family.
That is how the laboratory technician came up with an idea of making photocopies of educational materials and selling them in the streets of Nyamira town and other small centres to ensure his wife and their five-year-old child have something to eat.
His Sh10,000 monthly pay at Enkinda Secondary School in Nyamira North, stopped in March after the closure of learning institutions across the country, just as many other teaching and non-teaching staff members who rely on schools coffers for salaries and allowances.
Read More
Before the closure of schools, Maina, in his mid-30s, lived near the school in a rented house, but he had to move to reduce financial strains he was going through. "At the time, the idea of selling educational revision materials was dawning on me, I had no capital to roll it out. But somehow, I managed to sell the idea to a friend who owns a cyber cafe," Maina said.
His friend did the printing and for a start, Maina decided to sell them on a commission basis, until he had saved enough to start duplicating, binding and labelling his own stock.
That was after the second month of collaboration with the partner in the business.
The technician now says on a good day, he makes a profit of up to Sh500, which is enough for his bus fare and upkeep for the family.
Maina is among more than 200,000 other members of the teaching and non-teaching staff whose payments were stopped after the government shut down all learning centres in March.
In Maina's school, his colleagues are yet to find ways of surviving through these difficult times, especially those still on duty like security guards. "Some of my colleagues are contemplating legal mechanisms to access their payments but others are waiting for directions from the government concerning the salaries," Maina said.
For now, Maina will have to continue with the business until schools reopen.