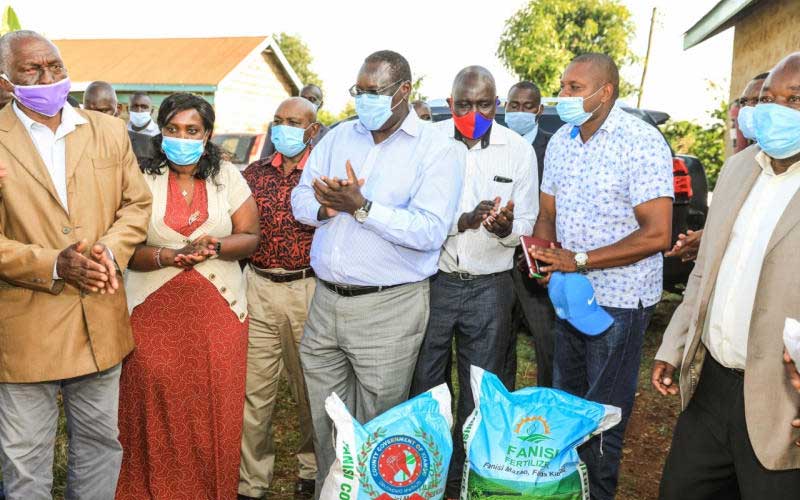 Twenty three coffee cooperative societies in Kiambu have agreed to work together to revive the sector.
This comes at a time when the once lush coffee plantations in Kiambu and Ruiru sub-counties have been turned into the multi-billion housing estates with blocks of apartments rising where coffee farming once thrived.
The 23 coffee cooperative societies will now form the Kiambu County Coffee Farmers Association under which they will jointly procureme inputs as well as process and market their coffee.
Speaking at Gatukuyu Farmers Cooperative Society in Gatundu North where he distributed industrial fertiliser to coffee farmers, Kiambu Governor James Nyoro said the 23 societies will enjoy economies of scale through bulk buying of farm inputs and shared agronomy support.
Read More
"We could, for example, have five or 10 agronomists going around the county which would reduce expenses for farmers instead of each society hiring its own. They could also share accounting services and combine IT systems. It is not necessary for every society to have its own processing plant," said Nyoro, an agricultural economist.
Nyoro said the county planned to distribute 750 tonnes of fertiliser at a cost of Sh40 million to the 23 cooperative societies, which will in turn distribute the same to active farmers.
According to Nyoro, the second phase of the coffee sector revitalisation will involve rehabilitating dilapidated fermentation tanks, drying beds and other facilities in the primary processing facilities.
Nyoro said the county plans to put up coffee cafés in major towns and education institutions to promote consumption of locally produced coffee.
The county is running another project with the World Bank where it will contribute Sh70 million within two years with the bank injecting Sh140 million for the Coffee Revival Action Programme in the next financial year.
Agriculture executive Joseph Kamau said the department was investing in a specially blended fertiliser that lowers soil acidity and is being supplied to farmers for free to jump start production.
"The secondary effect of poor market prices is that farmers are not able to buy enough inputs. We have begun by concentrating on fertilisers and pesticides, which will spur production," said Kamau.
He lamented that most farmers lack technical skills on coffee production and do not know what inputs to use, quantities required and the right pruning methods.
"We have embarked on an extension programme called the village-based advisers where one model farmer helps others improve their crop," he said.
Francis Maara, the chairman of Kiambu County Government Coffee Cooperative Society said reduced production and low prices over the years had left coffee farmers unable to purchase basic inputs.
"This is the first time the county government has aided farmers in terms of farm inputs, marketing and processing, as everyone else including banks and donors are running away from the coffee industry," said Maara. According to Maara, many farmers had given up on coffee farming due to poor prices and exploitation by middlemen in the sector.