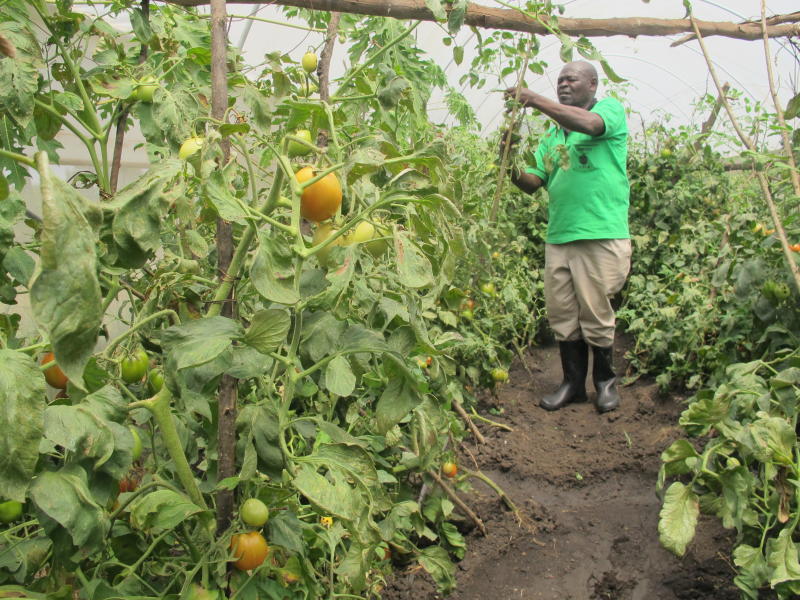 In an area that can no longer rely on rain-fed agriculture, Joshua Olonde has found a way to thrive. He lives in Lambwe Valley, Homa Bay County, and previously relied on maize to earn a living. However, after a string of heavy losses after the rains failed to meet expectations, he decided to take up horticulture and fish farming. And the bet's paying off. Joshua started fish farming in 2013 to cushion himself from the losses that came with growing maize, and with this decision, he found his way into horticulture after being trained on managing a greenhouse. With Sh10,000, he bought tomato seeds for his greenhouse and after four months had not only set up a model farm where other farmers from his neighbourhood could learn, but he'd also earned Sh80,000 from his first harvest. He's hoping his latest crop will bring in at least Sh100,000.
SEE ALSO: Beware of these five costly myths about pigs
"All this was a result of my decision to go into fish farming. My commitment saw me get a 30 metres by 15 metres greenhouse from World Vision under the Integrated Fish Farming and Horticultural Project," says Joshua. The project seeks to improve small-scale farmers' incomes and improve nutrition among children.
Organic manure
"We started by planting cabbage using organic manure from the fish ponds that we'd dug, but that wasn't enough and we felt we could do better," he says. Further, Joshua didn't harvest much after heavy rains affected his produce. He earned just Sh15,000. Now, four seasons later, he says he's learnt his lessons, knows what to grow and sees a better future for his family than when he started. The idea to go into horticulture came after Joshua and his Jowiro Group learnt that the water they'd discard after harvesting fish was rich in nutrients and good for crop growth.
SEE ALSO: How to make investment decisions amidst COVID-19
"We were taught that instead of buying inorganic fertiliser, we could use whatever was coming from the fish ponds for our crops." Today, Joshua has eight ponds, five of which have fish. He keeps 700 tilapias in each pond, and sells a 500-gramme fish at Sh200. He adds that he harvests about 60 crates of tomatoes from his greenhouse, and sells each at an average of Sh2,000. "Our integrated farming method is circular in nature. The fish gets nutrients from cow dung bags placed in the ponds, and the water that comes from the ponds every four months is used to water the crops." Joshua's biggest challenge is finding a consistent market for his tomatoes. "There are so many farmers engaging in horticulture around the lake region, so we have to fight for the market, but we're working as a group to get linkages to customers outside the lake region, and even outside the country," he says.
SEE ALSO: Cash flows into China funds fuel fears of 2015 boom-bust repeat
Joshua plans to get another greenhouse so he can invest in other vegetables. "If I had refused to take a risk and stayed with maize farming, I'd definitely not be where I am today."