Business News
Malagasy farmer Georges Ranaivomanana can finally afford enough bricks to build his own house this year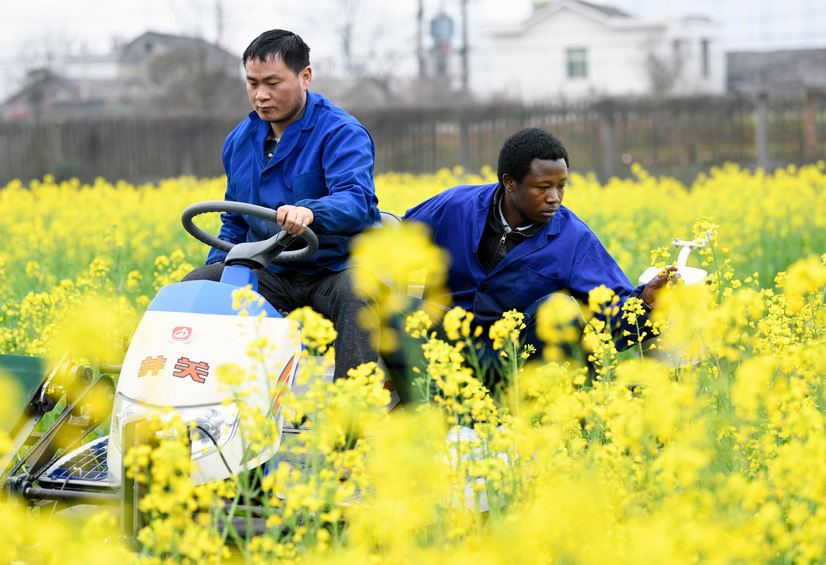 Malagasy farmer Georges Ranaivomanana can finally afford enough bricks to build his own house this year thanks to the growing of hybrid rice introduced by Chinese experts. "After using hybrid rice we no longer know about famine," the 55-year-old said, adding that the local Malagasy seeds yield 2 tons per hectare, while hybrid rice produces a harvest of 8 to 10 tons per hectare. "If all Malagasies use hybrid rice, Madagascar will be able to export rice," he said.
SEE ALSO: China parliament approves Hong Kong security bill as tensions with U.S. rise
In May, the China National Hybrid Rice Research and Development Center set up a research center in Madagascar, partnering with the country's agriculture ministry and local companies. The Chinese experts have successfully bred a number of hybrid rice types that suit the local climate with the highest yield of 10.8 tons per hectare. Ranaivomanana is just one of hundreds of thousands of beneficiaries from the booming
cooperation
between China and Africa. It has been a year since Chinese President Xi Jinping proposed eight major initiatives at the 2018 Beijing Summit of the Forum on China-Africa Cooperation (FOCAC) to elevate cooperation between the world's largest developing country and the largest developing continent. The eight initiatives cover various fields such as industrial promotion, infrastructure connectivity, trade facilitation, green development, capacity building, healthcare, people-to-people exchanges, and peace and security. "The eight initiatives promote the integration of China's Belt and Road construction with African development strategies with dozens of tangible programs that really bring benefits to the African people," said Xu Jinghu, the special representative of the Chinese government on African affairs.
SEE ALSO: US and China fight at United Nations over Hong Kong
WALKING THE TALK
At the FOCAC summit last year, Xi announced a raft of measures to promote China-Africa cooperation. Among them are import of more non-resource products from Africa, increased corporate investment, more direct flights, an environmental cooperation center, an African studies institute, and security programs fighting pirates and terrorists. Xi has said that a China-Africa economic and trade expo would be held in China, and a number of economic and trade cooperation zones in Africa would be built or upgraded. The past year witnessed China's commitment to fulfilling those promises. The first China-Africa Economic and Trade Expo held late June in central China's Changsha City, with an air route with east Africa's big city of Nairobi opened two weeks ahead of the expo.
SEE ALSO: Dancing with disinfectant: China's nightclubs back in the groove
A total of 84 deals worth 20.8 billion U.S. dollars were reached in trade, agriculture, tourism and other fields during the three-day event, which attracted more than 10,000 guests and traders, including those from 53 African countries. Nigeria's Jigawa State government signed a bilateral agreement with China's Hunan Province on the sidelines of the expo to boost the state's capacity in rice production. Gambo Ibrahim Aliyu, permanent secretary of the state's Ministry of Agriculture and Natural Resources, expressed optimism that the partnership would give Jigawa's highly-valued crops more access to the Chinese market, while increasing import of Chinese agricultural technology to the state. China has been Africa's biggest trading partner for 10 consecutive years, with an accumulated investment of over 110 billion dollars. In 2018, trade volume between China and Africa amounted to 204.2 billion dollars, up 20 percent year on year. In Ethiopia, people now expect a better business environment and new opportunities with the Chinese-built Dire Dawa Industrial Park almost being complete.
SEE ALSO: China's mask boom takes fabric away for nappy makers
Abdulkerim Yasin, a businessman in Ethiopia's eastern city of Dire Dawa, is hopeful that the commissioning of the industrial park would revive the business environment in the city and its surroundings. "Presently, I'm much focused on the import sector," Yasin told Xinhua. "Once the industrial park starts operations, I am planning to commit both in the import and export sector(s) by forging partnerships (with) some of the factories that are set to start their production inside the park." Drawing on China's development experience, Ethiopia will have about 15 industrial parks within years, mostly built by Chinese companies and with Chinese technologies. According to figures from the Ethiopia Investment Commission, Ethiopia has earned 142 million dollars in exports from Chinese-built industrial parks during the 2018-2019 Ethiopian fiscal year, up 50 percent year-on-year.
COMMON PROSPERITY