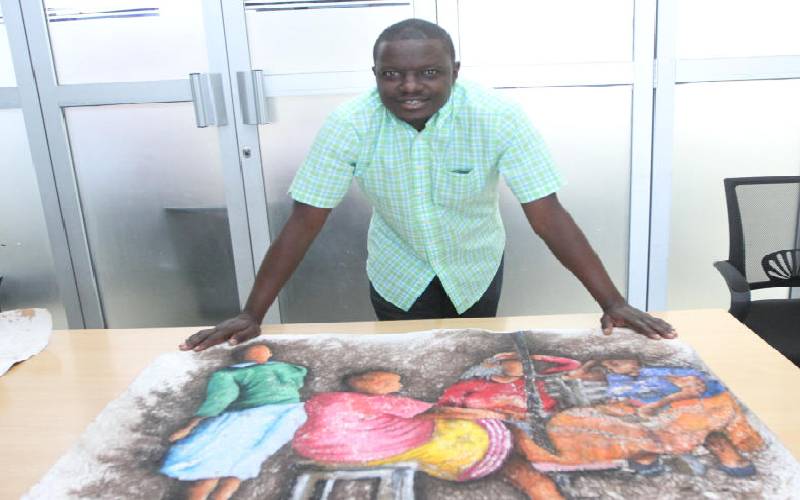 Art is highly appreciated globally but somewhat downplayed in Kenyan. Still, some artists are painting on undeterred. One of them is Stanley Cheche, a talented visual artist based in Nairobi who earns a living through intimate and interactive artwork. His gift has also enabled him to venture into interior design to further project his creativity. Cheche's works are mostly inspired by political, social and economic events from his environment. "A piece I do in Kenya will be different from a piece I will work on in Uganda. That is how my work stands out," he tells Hustle.
SEE ALSO: Falling returns lead TransCentury to delist from NSE
The mood to draw an particular piece comes in glimpses of anything that draws attention to societal activities. An example is the piece titled, 'Gateway to Hell'. Presented on canvas, the work has a message that advocates for the abolishing of female genital mutilation. "This piece (portrays) how girls are being denied sexual satisfaction through such uncouth practices," says Cheche. The artist got his breakthrough when he was among a few artistes who won an art competition sponsored by Safaricom in November 2018. His paintings were used on the company's products such as calendars, which gave him the platform to showcase his art every month.
SEE ALSO: City assembly now wants Badi's team to handle pending bills
Through his work, he has hit significant milestones by participating in a number of group exhibitions organised by the Godown Art Centre under the Manjano programme by the National Museum of Kenya. On the international scene, Cheche participated in a competition held in Turkey in October 2013 where the theme was based on art that touches the society. "The art piece I did was titled 'Greed' and it highlighted deforestation and poaching that are prevalent in Africa," he says. How does he commercialise his talent? "This ability was nurtured at an early age, it provided me with bread since I was in Form Two where I drew calligraphy designs on my fellow students' certificates," says Cheche.