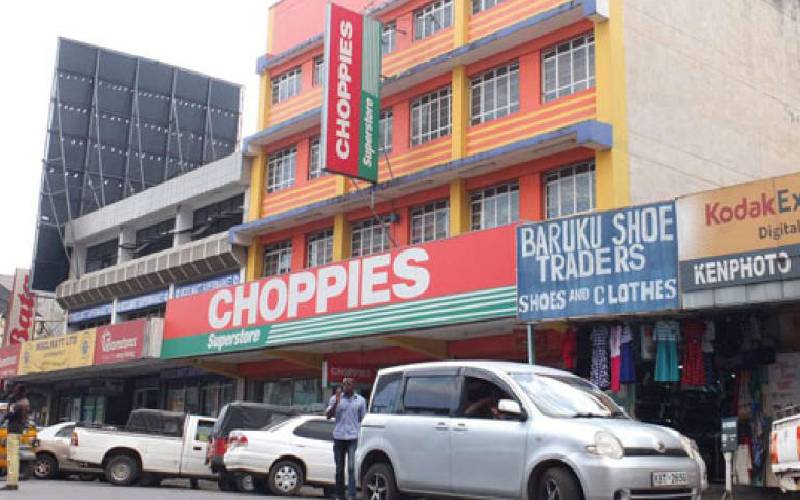 Botswana retailer,
Choppies
, that had aggressively opened 12 stores is closing some of them down after it ceased its operations in
Bungoma town
. The Standard has learned that the supermarket is struggling to pay suppliers who have withheld new stocks for fear of delayed payments. Many of these suppliers are smarting from what happened to them when other retailers recently closed shop. Choppies Chief Executive Ramachandran Ottapathu was fired in May following a tumultuous year that saw the suspension of the firm's share trading on Botswana and Johannesburg stock exchanges. The retailer's troubles are many, but it is the delays in paying Kenya's suppliers that has gotten the industry anxious, some pointing out that the retailer may be a victim of unplanned expansion just like its fallen peers. "Initially they were OK until they moved into the Airport North road unit, which I speculate could have affected cash flows. Now they stay forever without paying, sometimes you have to hold supplies before they pay," a supplier told The Standard in confidence. The Botswana retailer started as a single store in 1986 and has grown to South Africa, Zimbabwe, Zambia, Mozambique, Namibia, Tanzania and Kenya where it grew to 12 stores after acquiring Ukwala. It had plans to set up two new outlets this year. But the expansion binge and a loss of Sh126.8 million from six insolvent outlets in Kisumu and Nakuru hit the retailer with a reality check. The parent company parted ways with KPMG, its long-time auditor and its new auditors,
PwC
, uncovered several issues relating to the current and earlier financial periods, which require independent verification and expert legal analysis before disclosures can be made. Then a scandal broke out in Zimbabwe, where Choppies accused the country's former second vice-president Phelekezela Mphoko of pinching money from its tills, which blew the lid on its troubled shareholding structure. Officially, Zimbabwean shareholders held 51 per cent stake in the subsidiary in line with indigenisation laws, while Choppies Enterprises held the remainder. Mphoko and his son Siqokela Mphoko held the 51 per cent stake but after the fallout Choppies revealed they actually held only seven per cent. He was arrested and was arraigned for 170 counts of fraud and theft for taking money from the tills but in return filed affidavits exposing dirty tricks used by the Choppies directors.