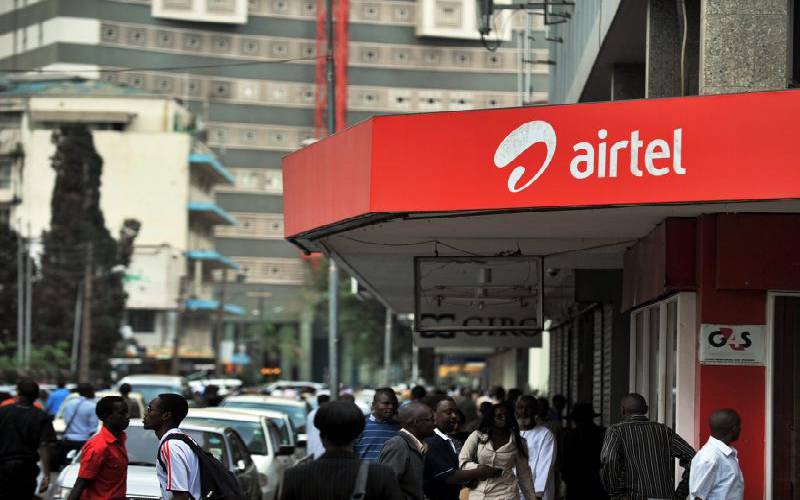 Financial Standard
CA data indicate that Airtel Kenya recorded a 58 per cent increase in the number of subscribers from 7.2 million in 2017 to 11.4 million last year.
Last Friday, Kenya's second mobile operator Airtel Kenya had its parent company Airtel Africa, list at the London Stock Exchange (LSE) with performance falling significantly below the initial listing price of Sh104. After listing, the counter fell 16 per cent, hitting a low of Sh85 and failing analysts' expectations and what the company had hoped to gather in its briefing to investors. Airtel Africa had offered 744 million new shares in a bid to raise Sh77.3 billion to kickstart operations in several of the 14 markets it operates. Kenya is its largest market in East Africa and the company's regulatory filings to the LSE detail strategic blunders that could have catalysed the company's poor showing in London last Friday. Data from industry regulator Communication Authority of Kenya (CA) indicates Airtel Kenya recorded a 58 per cent increase in the number of subscribers from 7.2 million in December 2017 to 11.4 million in December last year.
SEE ALSO: Trouble at Posta as employees go for months without salaries
The company also doubled its market share in the voice and SMS market over the past year with voice traffic doubling from a total of 1.9 million minutes recorded in the three months ending September 2017 to 4.7 million reported over a similar period last year. However, despite these gains in market share and volume, the company still reported a Sh1.2 billion loss as of December last year. Airtel Kenya's strategy of introducing offers and bundles targeted at luring subscribers away from competitors notably Safaricom has been cited as one of the major causes for poor revenue showing. The product offers such as unlimited data packages and bulk SMSs are often priced below what is offered by competitors and the firm's own filings now indicate this strategy is costing it heavily. "The market average revenue per user (ARPU) has stabilised at around $4.6 (Sh460) per month, with the historical evolution driven by an increase of Safaricom's ARPU due to strong mobile data growth and decline in Airtel's ARPU attributable to an effort to grow its share of the market through attractive pricing," said the report in part.
SEE ALSO: State gets greenlight to tap private phone calls
This means that while Safaricom is making Sh460 per month from each of its over 30 million subscribers, Airtel Kenya is making much less per subscriber despite giving out enticing offerings and below-market prices. "Voice ARPU has continued to gradually decline as a result of more intense price competition and growing contribution of mobile data and M-PESA to the overall revenue mix," explains Airtel Africa in its prospectus in part. "In 2018, voice ARPU is expected to constitute 47 per cent of the overall market ARPU." And since Safaricom has deployed more resources into data infrastructure such as 4G networks in the recent past, the gap between the two will only widen in coming days, a fact Airtel Africa acknowledges in its prospectus. "Smartphone users have steadily increased between 2016 and 2018, reaching 20.9 million in 2018 with a penetration of 40.6 per cent," states the report in part. "Average data consumption per data-active customer has more than doubled from 328 megabytes (MB) per month in 2016 to 697MB per month in 2018. As a result data ARPU contribution has been increasing steadily due to aggressive data plans stimulating the data usage, reaching 17 per cent of total ARPU in 2018." Airtel has also made several false steps in the field of mobile money transfer that has lead to regulatory action. In 2017, the company was granted a license through its subsidiary Airtel Money Transfer Ltd to carry out money remittance services in Kenya. The license was renewable annually but required the company to maintain a minimum core capital of Sh20 million at all times. Airtel Kenya failed to meet this threshold and the Central Bank threatened to revoke the license for the company's "failure to commence business."