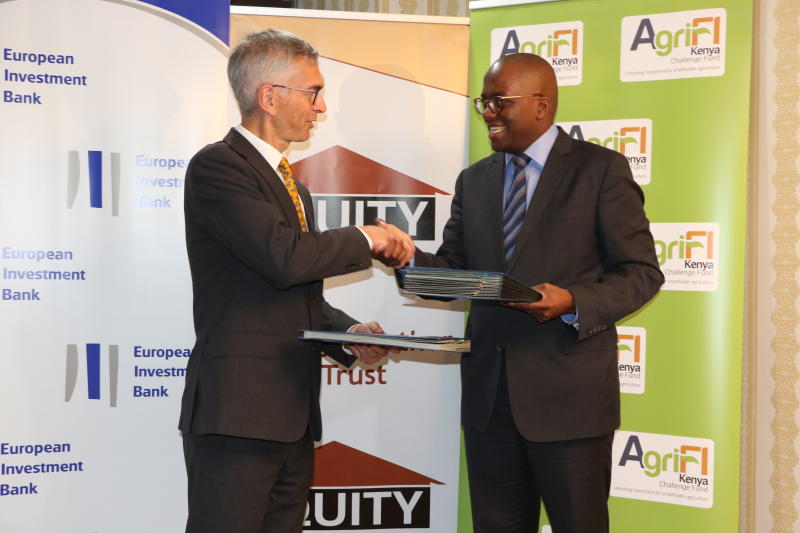 Business
Credit line that also targets agriculture-based SMEs to help them expand their operations.
Equity Bank and the European Investment Bank (EIB) have signed a Sh5.7 billion deal to finance agricultural development in the country. This as the local lender announced yesterday it had set up a commercial representative Office in Addis Ababa, Ethiopia as it prepares to expand into the hitherto protectionist economy. Hassan Maalim will head the office which is expected to be fully operational next month. The entry into Ethiopia, a country with a population of nearly 100 million people, follows the Government's appointment of a privatisation commission and the ongoing reforms which are aimed at promoting a growing private sector. In the deal with EIB, meanwhile, Equity Bank through the programme dubbed Kenya Agriculture Value Chain Facility will provide smallholder farmers and small agriculture-based Small and Medium-sized Enterprises (SMEs) with credit to expand their operations.
SEE ALSO: Kenyan brands among the most admired in Africa
"The European Investment Bank is pleased to launch our first dedicated support for long-term investment in African agriculture here in Nairobi," said European Investment Bank Regional Representative for East Africa Catherine Collin at the signing on Wednesday. "Working with Equity Bank across the country, the new Kenya Agriculture Value Chain Facility will help agriculture companies to modernise and harness the full economic, employment and export potential of agriculture as well as expand business with local smallholders." The project will be extended to other financing partners in the future with a focus on service providers expanding their reach to rural communities and smallholder farmers. "Equity Bank has aligned its strategy with the Big Four agenda, which includes agriculture, and our focus is on growing the agribusiness portfolio through servicing all segments from retail to SME to large enterprises and corporate banking customers," said Equity Bank Kenya Managing Director Polycarp Igathe. He said the credit facility will be used for on-lending of up to 50 per cent of project costs to eligible beneficiaries.