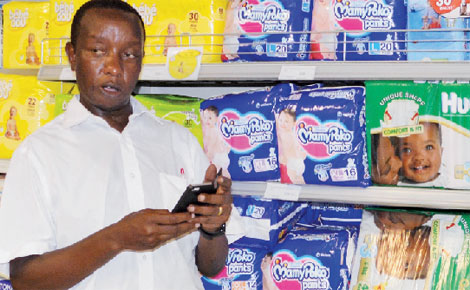 Mama Poko is making its way into diapers market Photo:Courtesy
By Winsley Masese
Nairobi,Kenya: Competition in the diapers market is becoming more intense, with Kenyan mothers spoilt for choice as brands flood supermarket shelves.
With about 20 brands in the market, continued innovation by existing dealers and new entrants is the new battlefront in the wake of price wars and aggressive marketing. Value addition is also defining the game as parents show preference for disposable diapers.
Pampers is the market leader in Kenya but fierce competitors such as Huggies, Bouncy, Bebedou and Tena and others are also angling for a piece of the business.
A new entrant into this business in a bid to gain more market share has come up with new type of diapers —pant-style diapers. This type differs from the widely used open or tape-type diapers. Mega Importers Limited says it launched Mamy Poko pull-up diapers in an attempt to lay claim to a slice of the lucrative market.
According to available data, out the 700,000 babies born in Kenya every year, only four per cent use diapers but by last year, the market for disposable diapers hit the $30 billion (Sh2.58 trillion)mark and dealers would not let the promisingly rising demand go unnoticed.
According to Dr Boniface Muiru of Mega Importers Limited, Mamy Poko is betting on unique features to dent its competitors' market share.
Muiru says the product is not as bulky as the normal tape diapers, are easy to pull up and down and users do not need to change as often.
The product is worn like a pant and is among the three most popular diaper brands in Japan, Singapore, Malysia, India and China. It is manufactured by Unicharm, a company in Japan that deals in personal care products. "They are easy to wear, even for men and greenhorn house girls. They absorb up to 6 glasses of urine so the baby can stay with the diaper for up to 12 hours. This means you need fewer changes in a day," Muiru explains.
Wambui Wagura, mother to a three-year old says Mamy Poko makes it easier to transition a baby to underwear. "I would go for it because it makes the baby get used to panties early enough since it resembles pants," she says.
"We want to make consumers happy by supplying diapers for all babies in all sizes," said Muiru. He says his team has also been training nurses and other caregivers on using the products. "It has super absorbents and fun designs. We have confidence in its quality," Muiru says, adding that since its launch at the Mega Importers stores on Bondo Road, Industrial area, Nairobi last year, the market has responded positively.
When diapers were beginning to hit supermarket shelves two decades ago, the medium packet was retailing at around Sh250.
Today due to rising demands and escalating cost of production, it costs at least Sh800. The smaller packs of 8 to 6 diapers cost Sh270.