Sri Lanka crisis deepens as president calls snap election
ASIA
By AFP | Nov 10th 2018 | 4 min read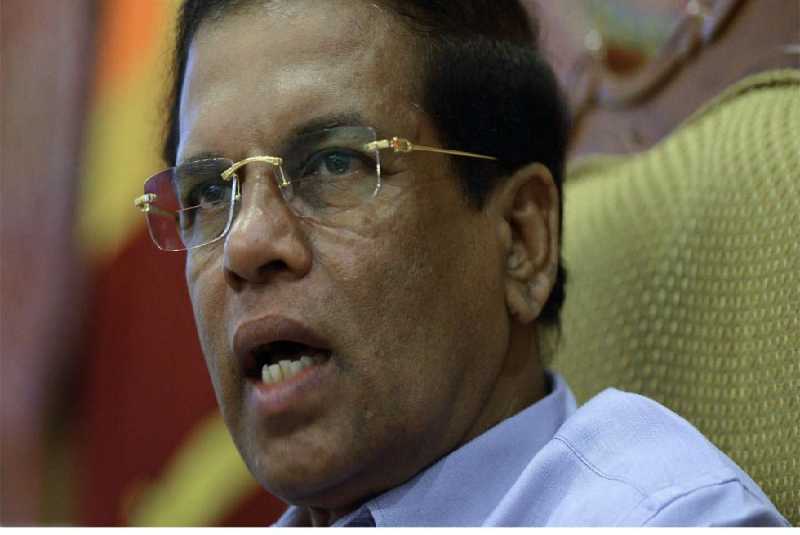 Sri Lanka plunged deeper into crisis Saturday after President Maithripala Sirisena sacked parliament and called a snap election, leaving the country facing a further two months of damaging political paralysis.
Political parties representing a majority of members in the 225-member parliament closed ranks to denounce the Friday night dissolution as illegal and unconstitutional.
Shortly before sacking the legislature, Sirisena took over the police department by attaching it to his defence ministry. He also took control of the state printer, a crucial institution that publishes decrees and proclamations.
He had already taken control of all state media outlets soon after dismissing Prime Minister Ranil Wickremesinghe on October 26.
Sirisena set elections for January 5, almost two years ahead of schedule, after it became clear that his designated prime minister -- former president Mahinda Rajapakse -- could not prove his majority when the assembly was set to reconvene on Wednesday.
Rajapakse, 72, was prime minister for two weeks without ever stepping into parliament. He would now continue as a caretaker premier until a new parliament meets on January 17.
A leader of Rajapakse's party, Susil Premajayantha, said Sirisena sacked the legislature to end the power struggle and allow people to elect a new parliament.
"Now we have a caretaker government with limited functions," Premajayantha said. "We will conduct a free and fair election."
He accused sacked premier Wickremesinghe of causing instability by refusing to vacate his official residence, a charge rejected by him as well as several other parties who together command a majority in parliament.
- Power struggle -
Rajapakse and ousted Wickremesinghe have been battling for power for two weeks as international concern grew over the mounting turmoil in the strategically important island nation.
Sirisena signed a decree dismissing the legislature in a bid to head off any revolt against his actions which included suspending parliament for nearly three weeks.
Wickremesinghe's finance minister Mangala Samaraweera described the parliament sacking as a desperate move by Sirisena.
"A desperate president without a majority, now resorts to more desperate measures by illegally dissolving parliament," Samaraweera said.
"All those who cherish democracy, decency and rule of law, must now rally around and defeat the emerging tyranny."
Rajapakse was yet address the nation after his disputed elevation, but early Saturday attempted to justify the dissolution.
"... A general election will truly establish the will of the people and make way for a stable country," he said on Twitter.
There was no immediate comment from Wickremesinghe, but his United National Party (UNP) said it will challenge Sirisena's sacking while several civil society groups were also planning to petition the Supreme Court against what they see as an illegal action of the executive.
- US 'deeply concerned' -
The United States, the United Nations and the European Union have become increasingly concerned, and Washington's criticism of Sirisema's move was swift.
"The US is deeply concerned by news the Sri Lanka parliament will be dissolved, further deepening the political crisis," the US State Department said in a statement.
"As a committed partner of Sri Lanka, we believe democratic institutions and processes need to be respected to ensure stability and prosperity," it said.
Australia's foreign minister expressed concern and said Sirisena's action "undermines Sri Lanka's long democratic tradition and poses a risk to its stability and prosperity".
Just before sacking the parliament, Sirisena also inducted more ministers into his cabinet. The move was seen as giving them access to state resources in the run up to the January vote.
The leftist People's Liberation Front (JVP), which regards the sacking of Wickremesinghe as unconstitutional, accused Sirisena of trying to consolidate his power grab.
"Dissolving parliament at this time is illegal and goes against the constitution," JVP general secretary Tilvin Silva told reporters.
Sirisena suspended parliament to give himself more time to engineer defections but failed, according to the opposition.
Several legislators have said they were offered millions of dollars to switch allegiance and at least eight had already jumped to the president's side.
Under international pressure Sirisena had agreed three times to lift the suspension but changed his mind each time.
Wickremesinghe had late Thursday thanked his supporters in a Facebook video for not letting Sri Lanka be "plunged into the darkness of dictatorship".
It was not immediately clear if he would vacate the official Temple Trees residence following the dissolution of parliament.
The power struggle on the island of 21 million people has paralysed much of the administration, according to legislators on both sides of the dispute.