Fears over thespians for hire and copyright as drama fetestarts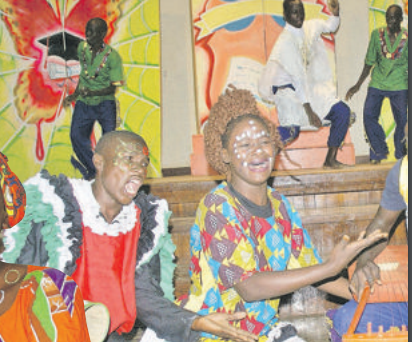 As the annual Kenya National Drama and Film Festival kicks off at Kibabii University next week, organisers will be confronting two key issues that could colour or jolt the fete.
While it is going to be the melting pot of cultures and creativity in many genres, including the newly minted spoken word category, issues around copyright infringements and the role of non-teaching thespians continue to haunt the event meant to tap talent and instill discipline and integrity among its youthful participants.
Cases of plays with similar story lines and scripts with altered titles and authors have been reported.
A case in point was the 2012 event held in Kakamega. Adjudicators were shocked to see the same play displayed by two different schools.
Chogoria Boys from Eastern had the same play as the hosts Mukumu Girls but presented with different titles and of playwright, leading to their disqualification.
After Mukumu Girls presented their play, Eclipse in Heaven, moments before lunch break on a Monday, it was clear to all that it was so similar to that of Chogoria Boys, The Antidote, presented the previous Saturday in a clear case of plagiarism.
Cleophas Malalah, now Kakamega Senator, was credited for writing Eclipse in Heaven, while Allan Chahasi was the author of The Antidote.
This month while adjudicating in Busia County, Esherry Munala and her colleagues found out that two schools had presented a similar play in a similar fashion.
"We had no option but to disqualify them," said Mrs Munala, a deputy principal, French playwright and director.
The ultimate victim in all these is the student who spares their time, are mocked by colleagues and teachers alike for wasting time instead of keeping it real in academics and missing sleep only to be told they have been ponds in a chess game of unscrupulous adults.
More often than not the culprits are teachers with the title of patrons or non-teaching trainers, playwrights, directors and stage designers hired by the schools.
Unlike the late playwright and teacher, Barnabas Kasigwa, and Nanyuki High School Principal Oliver Minishi, among other teachers who have excelled in theatre, many dramapatrons cannot script or direct stage performances.
It is this gap that has watered and nurtured rampant intellectual property rights violations in the fete that attracts over 15,000 participants on the national stage alone.
Someone attending the county and regional editions of the festival realised the so-called mercenaries were alive and kicking, pulling shots from behind the scenes.
Making comments during the Nairobi regional fest at Sunshine Secondary School, Dr Charles Ong'ondo explained something that raised eyebrows.
"We can allow you as products of the festival to help your former teachers train in your Alma Mata but you must not be paid for it," he said in a communication signed also by Prof Okumu Bigambo of Moi University and the Deputy Principal at Alupe University College, Prof Peter Barasa.
So, according to these dons, products of the festival can train but so long as they are not TSC teachers they must not gain from the sweat of their brow, let alone being recognised for the work done.
"The diagnosis of the problem is wrong, and as a result the prescription and treatment is inconsequential. That's why it metamorphoses and changes shape like an octopus," said a participant of many years who sought anonymity because he is not allowed to speak to press on such matters.
He says the lack of discretion to see the gap in trainers of drama and the desire to empower children in good acting skills has pushed the trainers to underground activity, making them vulnerable and easy prey to intellectual property exploitation.
In an attempt to curb this vice, the organising committee has put in place a litany of rules to govern this trend.
The new regulations outlaw the participation of non-Teachers Service Commission trainers at the fete. "An item may be scripted by anyone in the world but the directing, producing and anything that includes coming into contact with a student must be a teacher with a TSC number. County secretaries should not accept results from sub-county secretaries that flout the above," reads communication from new Executive Secretary James Indimuli to regional secretaries countrywide.
He also directs that even TSC teachers may not direct more than one institution.
"Again if Ayieko, though a registered teacher, has directed in more than one institution, you could save him by dropping one even if they both qualified. You should have disqualified the two institutions initially," instructs Mr Indimuli who took overfrom the long serving Patrick Sirengo Khaemba, now the Director Field Coordination and Co-Curriculum Activities at the Ministry of Education.
But some thespians term this directive artistically suicidal. "We have thespians who have the capability to produce and direct more than two competing pieces. Their contribution to the festival is immense, and majorly they do it for passion. Denying them a chance to give back to the festival that grew them is making the festival clogged. We also may be allowing weak items to make it to the top level of the festival with this decision," says one trainer.
In fact, despite the stringent rules, the non-TSC staff continue to work with the schools albeit clandestinely.
But what has left thespians wondering about this policy in drama is the fact that the sister festival, Kenya Music Festival, that attracts over 120,000 students on the national stage alone allows for non-TSC teachers.
Similarly, within the same Ministry, trainers of football, netball, rugby, hockey and other sports are sourced from outside the TSC and schools fraternity.
"As much as we appreciate the ministry wanted to empower the teacher who oftentimes doesn't have the time to script or direct an item alongside their obligations in class, what message are we sending to the trainers who are all products of the Kenya National Drama Festival? And yet we keep asking what next for the students after the festival?" says one of the frustrated trainers.
Enough teachers
Another argues that there are no enough teachers with skills to script and direct: "Tell me how many teachers who actually teach in class and can script or direct. They are countable, Oliver Minishi, Frederick Shitubi and Rose Mitheu. Who else?"
They say the directive would kill talent, yet the new curriculum is meant to tap this.
According to the moderator of Creative Economy Working Group, Prof Kimani Njogu, the moral rights that entail recognising the works of these individual non-TSC trainers and creatives is paramount.
"When someone works for hire, a pre-work agreement may have rights forfeited but for creative works even if you are hired you still have your rights. To the extent that the work is originated from the creator nobody else can claim ownership," he says, adding that whoever creates the works at the dramaand film festival owns it.
And Prof Ben Sihanya agrees.
"Those creatives who are not in the TSC payroll must enjoy copyright both moral and economic. Penalising schools or teachers for working with such is unacceptable," says Prof Sihanya who is a former Dean, School of Law at the University of Nairobi.
He suggests that the non-TSC trainers should form an association that can articulate their issues in a structured manner and defend these inalienable rights.
Without this, stories of thespians dying in abject poverty will continue dominating the headlines on the art scene.