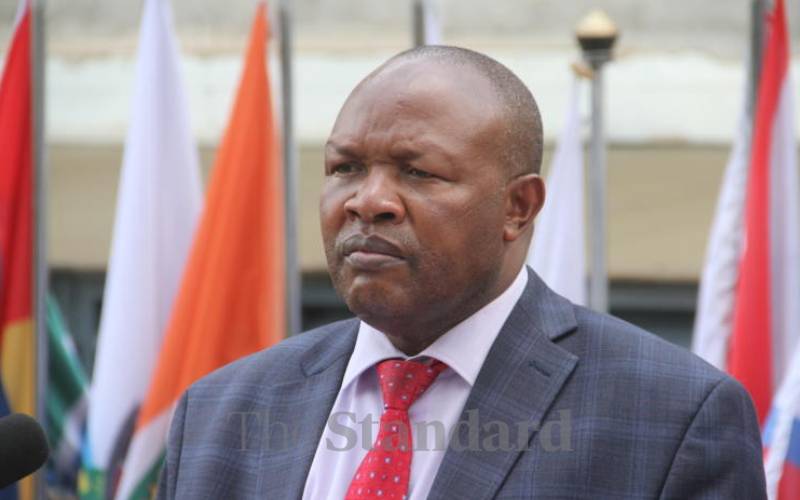 Two major factories whose construction began in 2014 have stalled.
The multi-million shilling projects – Kiptere sweet potato factory and Roret pineapple factory – initiated by Governor Paul Chepkwony to boost farmers are now in ruins.
The situation has left farmers with no option but to sell their produce at throwaway prices.
Close to 10,000 pineapple farmers in Bureti constituency are some of those affected after Roret Pineapple Processing Plant failed to roar into business.
When The Standard visited the construction site, about three kilometres from Roret trading centre, some of the Sh60 million juice processing machines donated by Deputy President William Ruto were rusting away in the open.
The equipment was Ruto's gift to Kericho residents in 2016 for backing the Jubilee party during that year's senatorial by-election, occasioned after the appointment of then area Senator Charles Keter to the Cabinet.
Kericho County Finance Executive Patrick Mutai said Sh6.4 million had been allocated to the project in the current financial year.
"The County Government of Kericho is supporting the President's Big Four Agenda in realising Kenya blueprint Vision 2030. This is by promoting manufacturing through the construction of the Roret Pineapple plant," said Dr Mutai.
Over 1,860 hectares of land is under pineapple in the sub-county, with only 70 hectares outside the Roret division.
Robert Rono, a pineapple farmer, has reduced the land under pineapple to almost three acres.
"I now harvest about 1,000 pieces of pineapple per month which I sell at the farm and have to contend with the gate prices which sometimes are as low as Sh10 for a big pineapple," he said.
Agnes Kimetto, who hawks whole and slices of pineapple at Ngoino road junction along the Kericho- Litein highway, laments about the lost opportunity over the stalled pineapple factory.
"I have escaped death by a whisker so many times when rushing to sell the fruits to passengers and motorists. Working under the scorching sun also always leaves me with a throbbing headache," she said.
The foundation stone of the stalled sweet potato factory was laid by Governor Chepkwony in 2014 in a ceremony attended by former Bomet Governor Isaac Ruto and Sahara Communities Abroad (Sacoma) CEO Perez Ochieng'.
Although the county government has spent more than Sh6 million on the project located in Soin/Sigowet Constituency, not even a single package of sweet potatoes has been exported to the UK as had been envisioned.
Governor Chepkwony claimed that Andrew Chirchir, the owner of the one-acre land on which the factory sits threw a spanner in the works by demanding Sh3 million for the land.
Chepkwony argues that the stalemate was caused by Chirchir's decision to hike the price of land from Sh1.5 million to Sh3 million.
"The county was ready to seal the deal according to the original agreement," he said.