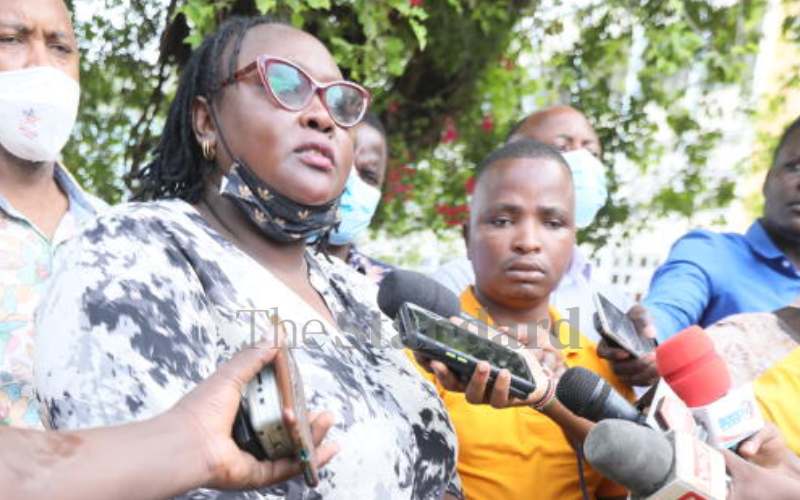 Five health workers' unions in Mombasa County yesterday confirmed that their strike over delayed salaries for November and December last year is on.
The medics vowed to take industrial action until they are paid the salaries in full, their National Hospital Insurance Fund (NHIF) deductions are remitted, and cards for medical cover activated.
Kenya National Union of Nurses (KNUN), Kenya Union of Pharmaceutical Technologists, Kenya Health Workers Professional Society (KHWPS), Kenya National Union of Laboratory Officers (KNULO) and Kenya Union of Clinical Officers (KUCO) said their over 4,000 members will begin the strike today until their grievances are addressed.
"We wish to state that despite having engaged the county government of Mombasa leadership for the last two years to try and ensure a conducive working environment, nothing tangible has come out of our talks," said Mr Frankline Makanga, Mombasa executive secretary of the KUCO.
Ms Emily Mosoi, the KNUN branch secretary, said they were fed up with empty promises from the employer.
"Effective midnight, we shall stay away from our working stations. Strike is the only dialogue that our employer understands. We, however, feel sorry for our patients and urge them to seek medication at alternative healthcare facilities," she said.
KNULO branch secretary Mr Moses Maingi said no one should gain from their plight which he asked politicians not to politicise.
"Having close to 4,000 workers in the port city of Mombasa not working is economic war. What we want is for listed grievances to be addressed," he said.
Separately, the Kenya Medical Practitioners, Pharmacists and Dentists Union (KMPDU) last Tuesday issued a strike notice, saying talks with the County Health Department on their grievances have stalled.
KMPDU Coast branch secretary Dr Nassir Shaban said for at least two years, they have had talks with the Mombasa county government towards ensuring all the doctors in the county are under National Health Insurance Fund in vain.
Shaban said that 40 doctors working at the Coast General Health and Referral Hospital have not been registered under NHIF.
"We are in touch with other doctors from the neighbouring counties and they have been paid their salaries on time. For the last eight months, it has been normal for the Mombasa County government to delay doctors' salaries," said Shaban.
Two Mombasa legislators yesterday asked Mombasa Governor Hassan Joho to take charge and ensure the medics' grievances are addressed once and for all.
Mvita MP Abdulswamad Nassir who met the doctors' representatives at his constituency office said that he had spoken to Joho and hoped that an amicable solution would be found. Nassir also said that he had asked Joho to ensure that Mombasa County government staff who had not received their salaries are paid.
"It is January and we all know the burdens that come with the first month of the year. It is only fair that workers and doctors receive their salaries and all their grievances are addressed and acted upon," Nassir said, urging Members of the Mombasa County MCAs to call for special sitting over the matter.
Likoni MP Mishi Mboko called on Governor Joho to intervene and ensure that the relevant departments charged with workers' dues act expeditiously on the matter.
"We need to act fast to avert any form of strikes at a time when the world is grappling with effects of a global Covid-19 pandemic," Mboko said, a call that was echoed by local religious leaders.