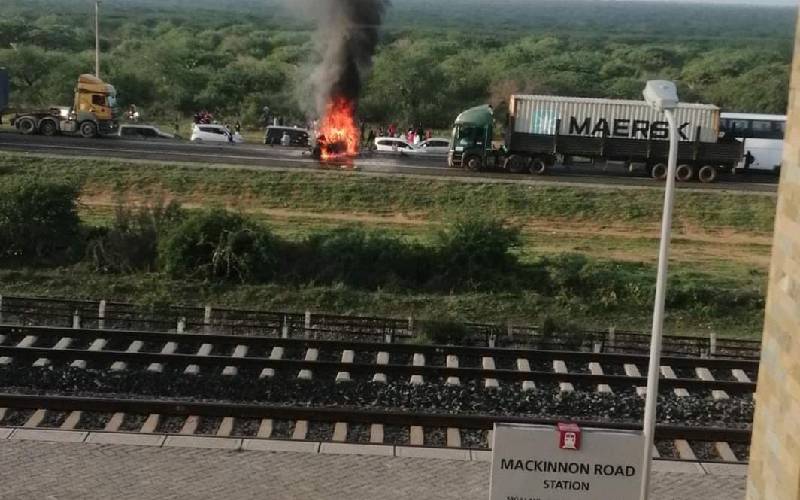 Funeral plans for five members of one family who died in a grisly road accident on their way from Mombasa to Kisii on Christmas Day are currently ongoing at their rural home.
Mombasa-based contractor Ronald Bundi, his wife Veronica Ogake and their three daughters Marion Moraa, Natalie Kemunto and Claire Kwamboka are set to be buried on Friday at their Itumbe village home.
Casmir Nyabuto, an elder brother to Bundi, said that his brother's two sons who survived the accident are currently recuperating at the Coast General Hospital.
"Even as we mourn my brother, his wife and their three children, we are grateful to God for saving the lives of my two young nephews who are currently in hospital and responding well to treatment," said Nyabuto.
A requiem Mass for the five will be held at St Francis of Assisi Customs Parish in Nyali, Mombasa after which their bodies will be transported to Kisii on Thursday, for an overnight stay.
"Bundi was our last born brother, he has done so much for our family. He was the one who took us to Mombasa where we worked in his company... it's so unfortunate that their journey home turned tragic," said Nyabuto.
Bundi's mother Yuventina Moraa was inconsolable as she tried to come to terms with the loss of her five family members. She could not be able to speak to us, and family members told the press that she has been that way since she got the news.
Bundi, his wife Veronica, daughters Natalia and Claire died on the spot in the accident that occured at Engwata area in Mackinnon near Voi Town while on their way home to Kisii. The eldest daughter, Marion, died a week later while undergoing treatment in hospital.